Chicago mayor's police reform plan advances
After months of African-American aldermen publicly blasting the administration's police reform efforts, many voted for the ordinance thanks to changes Rahm Emanuel made
---
By John Byrne and Hal Dardick
Chicago Tribune
CHICAGO — Mayor Rahm Emanuel won a major round Wednesday in his effort to reform oversight of the beleaguered Chicago Police Department, but now comes the hard part: putting in place new standards while walking the gantlet of community activists who think they don't go far enough and Chicago police who are convinced they're getting the shaft.
As a result, a mayor typically unafraid to take a victory bow offered a more subdued reaction after a lopsided City Council vote to create a new police misconduct investigation agency with broader powers and empower a new watchdog to make sure the new system doesn't go awry.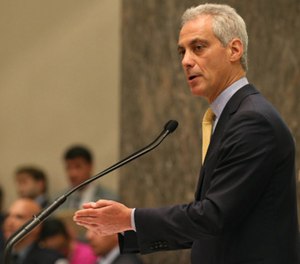 "I would consider this the beginning of a journey, not the end," Emanuel said after the 39-8 tally. "This is not the end, but it is an important step forward on the improvements that we all seek."
That's an acknowledgment that many of the thorniest police reform issues remain unresolved, even as the U.S. Justice Department continues its own investigation into Police Department tactics and training that could result in Emanuel being required to make additional changes.
The vote itself underscored the mayor's difficulties. After months of African-American aldermen publicly blasting the administration's police reform efforts, most of them voted for the ordinance thanks to changes Emanuel made along with behind-the-scenes cajoling and arm twisting.
West Side Ald. Jason Ervin, 28th, had been one of the loudest critics before voting for the ordinance Wednesday, citing concessions from the administration. Mayoral ally Ald. Walter Burnett Jr. echoed sentiments voiced by several black aldermen that it was time to start showing progress on the police oversight issue even as some questions about the specifics remain unanswered.
"We can holler and scream, we can march, we can protest, we can hate folks and all of those things, but at the end of the day, we try to get things done," said Burnett, 27th. "We are getting things done here. Everyone's concerns have been incorporated. Did everybody get 100 percent of everything that they wanted? No."
But several council members representing largely white neighborhoods where lots of police officers live voted against it. Of the eight "no" votes, six came from aldermen representing bungalow belt neighborhoods on the city's edges. Two other aldermen with strong Police Department ties did not vote: Former police officer Ald. Edward Burke, 14th, walked out of council chambers before the roll call, and former officer Ald. Willie Cochran, 20th, did not attend the meeting.
Southwest Side Ald. Michael Zalewski said he heard from the cops in his 23rd Ward that they don't think they'll get a fair shake with the changes, especially a not-yet-created police citizen oversight board.
"The rank-and-file police officers that I represent were not supportive, and they made that very clear to me," Zalewski said after the vote. "It was clear to me that, one, I'm not sure they were part of the process enough in the drafting of the new board, and, two, would they have a seat at the table to make sure the men and women of the Police Department had their say on anything that's going to happen on this board?"
Asked after the meeting how he can convince police who already are worried they're being unfairly cast as villains around the city that they will get a fair shake under the new rules, Emanuel returned to a theme of shared responsibility that he has mentioned frequently in recent months.
"We also have to stress with our citizens they have to work with our Police Department," the mayor said. "Because in the end of the day, the faith we're looking for, the trust we're looking for, are essential for the public safety we are looking for throughout the city of Chicago. It is not on the Police Department alone. It is on all of us."
On the other side of the issue that has been a dominant theme of Emanuel's second term are residents and community activists, especially in African-American neighborhoods, who say the mayor's efforts will fall short of what's needed to stop police shootings and other incidents of police misconduct that disproportionately affect black Chicagoans.
"This was our chance to get it right the first time, Chicago, before the U.S. Department of Justice tells us to start over again," Ald. Leslie Hairston, 5th, said Wednesday. "Sadly, Chicago ain't ready for reform. We prove it over and over again."
Under the plan, the much-maligned Independent Police Review Authority will be replaced by the Civilian Office of Police Accountability. The new agency will have greater power to investigate alleged police abuse and the use of deadly force. It also will be able to recommend changes to police policy and procedure.
City Hall also will create a new post of deputy inspector general to audit the new police accountability system and identify patterns and practices that violate constitutional rights. That person will be picked by the inspector general, who is appointed by the mayor.
Emanuel had hoped to pass the police oversight ordinance months ago but repeatedly delayed a vote as aldermen and community organizations called for more input. He also agreed to changes, including a minimum funding level for the new police investigations agency and the new watchdog so the mayor or council cannot gut their power by reducing their budget.
The mayor still has to craft a citizen oversight board, which would play a key role in picking the chief of the new police oversight agency. That process is fraught with questions about how much control the new board will actually have, so action has been put off until 2017.
Asked Wednesday how much authority he will cede to the board, Emanuel did not answer directly.
Even with the strong win Wednesday, Emanuel likely will find critics continue to challenge him on his plan's deficiencies.
Before the debate, a couple dozen protesters rose in chambers, shouting, "Hold the vote!" and calling for more community input. Police led them out of the room as Emanuel pounded the gavel and Public Safety Committee Chairman Ald. Ariel Reboyras, 30th, yelled his opening statement on the ordinance in a bid to be heard over the fracas.
Later, a woman stood and shouted, "Sixteen shots and a cover-up! We will never forget," a reference to the number of times white Chicago police Officer Jason Van Dyke shot black teen Laquan McDonald in October 2014. The court-ordered release of police dashcam video in November 2015 led to months of massive protests, calls for the mayor's resignation, the Justice Department investigation and Emanuel's firing of then-police Superintendent Garry McCarthy.
"That's true," Emanuel responded from the dais at the front of the chambers, saying the city was using the McDonald case as an "impetus for change."
Before a council joint committee even took a preliminary vote Tuesday, some African-American activists already were blasting the ordinance as insufficient and calling on the mayor to consider proposals that give power to an elected civilian police oversight board.
Brenda Sheriff, vice president of the Southside branch of the NAACP, questioned Emanuel's sincerity.
"No matter how many tears Mayor Rahm Emanuel sheds at press conferences, if he is unwilling to promote these substantive changes we demand, the world will know that he is only feigning compassion for communities of color that continue to be victimized by those sworn to serve and protect them," Sheriff said.
Hours into Tuesday's lengthy committee meeting on the mayor's plan, Lamon Reccord, a young African-American activist who has gained prominence during anti-police protests in the months since the McDonald video was released, rose to his feet in council chambers. Reccord shouted his displeasure with what he described as a too-familiar process to address a deep-seated problem.
"You've been saying the same s--- for years, while we're getting killed," Reccord yelled repeatedly at aldermen and Emanuel administration officials as police escorted him out.
This year, amid sagging community confidence in police, shootings and homicides have risen to levels not seen in 20 years.
The Justice Department could throw a wrench in the works when it issues its report by declaring the city needs to take different steps to fix endemic problems in the department. But Emanuel is counting on this ordinance to show Chicagoans he's taking the necessary steps to overhaul the oversight system. Shortly after the release of the McDonald video, the mayor initially said there was no need for a federal investigation of the Police Department, before changing course and welcoming federal authorities.
Asked Wednesday whether he's worried the Justice Department could say he didn't go far enough, the mayor didn't answer directly.
"I don't want to speak for the Department of Justice. Attitudinally, we welcome them to come in," Emanuel said. "Working with them. They're conscious and aware of what we're doing and fully abreast of the changes we're making."
McClatchy-Tribune News Service