Dallas officer wounded in Home Depot shooting 'not out of the woods yet'
Officer Crystal Almeida, who was critically wounded in the April 24 shooting, is improving but has a long road ahead to recovery, her father said
---
By Claire Z. Cardona
The Dallas Morning News
DALLAS — The Dallas police officer wounded in a shooting at a Lake Highlands Home Depot last month is improving but has a long road ahead to recovery, her father said. 
Officer Crystal Almeida, 26, was critically wounded in the April 24 shooting while responding to a call to help an off-duty officer who had detained a man at the store.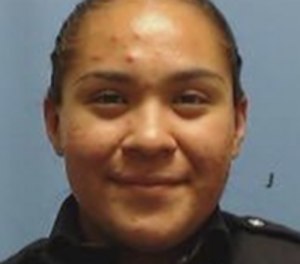 Almeida was placed in a medically induced coma last week after having surgery to remove excess fluids and bullet fragments from her brain, her father Manuel Almeida told the El Paso Times. 
She regained consciousness later in the week.
"She is doing a lot better, but we still have a long way to go," Manuel Almeida said. "She regained consciousness, she is starting to walk around. She still can't speak much, but she is slowly starting to talk. She can't talk much right now. She has said very, very little."
Her partner Rogelio Santander and Home Depot loss-prevention officer Scott Painter were also shot. Santander died the next day from his injuries and was buried Tuesday. Painter was critically wounded and also remains hospitalized at Texas Health Presbyterian of Dallas. 
Almeida, an El Paso native, is expected to undergo reconstructive surgery to repair the bone structure on the left side of her face next week, her father said. 
"Doctors say she is doing really well right now," Manuel Almeida told the El Paso Times. "She is not out of the woods yet, but her progress is really good. She is going to be here for a while, but, thank God, she is doing much, much better."
He said his daughter has anxiety and wants to move and talk more.  There is no timetable for her discharge from the hospital. 
"It is hard, very hard," he said. "We just keep praying she continues to get better and ask for the community to continue to pray for her. I will stay here beside her until she is released."
Dallas city officials and police recognized all three shooting victims at Police Chief U. Renee Hall's swearing in ceremony on Wednesday.
Classmates of Almeida and Santander sat on stage with Mayor Mike Rawlings, City Manager TC Broadnax and the chiefs in Hall's command staff.
"As we sit in this auditorium today, Officer Crystal Almeida and loss-prevention Officer Scott Painter are only a short distance away, recovering from what will be life-altering injuries," Hall said.
The Dallas Police Association's Assist the Officer Foundation is raising money to help the families of the officers. The Latino officers group, the Blue Guardian Foundation, is also raising funds and paying for the Santander family's hotel stays.
Police arrested the suspect in the shootings, Armando Luis Juarez, after a five-hour manhunt and chase that started in southeast Dallas and ended near Dallas Love Field.
Juarez is accused of shooting Santander, Almeida and Painter then fleeing while the off-duty officer who detained him was checking on an outstanding warrant, according to police records. He is being held in the Dallas County Jail on $4,110,000 bail.
Staff writer Naheed Rajwani contributed to this report. 
©2018 The Dallas Morning News
McClatchy-Tribune News Service