Family of fallen officer receives letter from President Trump
A personal letter from President Donald Trump recognizes the sacrifice made by Terre Haute Officer Rob Pitts, who died in the line of duty May 4
---
By Lisa Trigg
The Tribune-Star, Terre Haute, Ind.
TERRE HAUTE, Ind. — A personal letter from President Donald Trump recognizes the sacrifice made by Terre Haute Police Officer Rob Pitts, who died in the line of duty May 4.
"It was pretty much a surprise to us when we got the letter," said Greg Pitts, brother of the fallen officer. "We're proud that we got the letter. It's a humbling experience."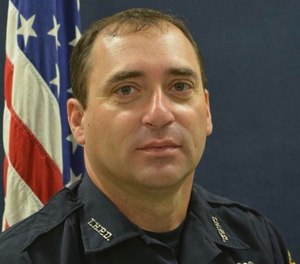 The one-page letter, signed by both the president and the first lady, also mentions Pitt's three children.
"We pray that you all are strengthened by the memory of Rob's indelible spirit and find comfort in knowing that Dakota, Brooke and Austin will carry on his legacy. He will forever be remembered for his commitment to protecting and serving the people of Indiana," the letter states.
Having the personal touch of naming Rob's children makes the letter more special, his brother said.
"The Terre Haute Police Department had it framed for us, and we'll keep it for his children. Austin is getting married in October, so it will probably go to him to hang in their new home together," Pitts said.
Another honor received recently by the family are an Indiana flag and a U.S. flag from the 38th Sustainment Brigade, stationed in the Middle East. The flags were flown at the brigade headquarters at Camp Arifjan, Kuwait, from May 5 to May 31.
"The flags were flown in Rob's honor and then sent to us," Pitts said. "That came as a complete surprise to us. When you open up the package and see the flag was flown in Kuwait, that's special."
The loss of Rob — a veteran officer who served 14 years at THPD following a six-year career with the Sullivan Police Department — has hit the family hard, Pitts said.
"It's been pretty tough on my mom and dad, and I try to stay busy and keep my mind from wandering too much and thinking about it," Greg Pitts said.
The community support has been a big help to the family, he said.
Fundraisers such as meals and special events in Rob's honor are appreciated.
"In a time when there's so much controversy going on, when Democrats and Republicans don't seem to get along, it's nice to be from a small community where people can put their differences aside and come together to help our family," he said.
The Pitts family has also found comfort from the COPS organization, which supports families of fallen officers. Pitts said he is looking forward to attending a COPS cookout in Shelbyville this summer.
"It will be kind of nice to talk to other survivors, because they know what we are going through," he said.
©2018 The Tribune-Star (Terre Haute, Ind.)
McClatchy-Tribune News Service