Officers describe thwarted attack at Texas cartoon contest
A nearby officer who spotted one of the men with a rifle and killed both men, staving off an attack
---
Associated Press
PHOENIX — On a Sunday evening last spring, two men wearing body armor and armed with assault rifles abruptly stopped their car outside a Prophet Muhammad cartoon contest in Garland, Texas.
An approaching security officer thought it was a prank, but quickly realized he was mistaken and ran behind a tree as shots erupted. A nearby police officer who spotted one of the men with a rifle unholstered his pistol and killed both men, staving off an attack that authorities say was by followers of the Islamic State terrorist group.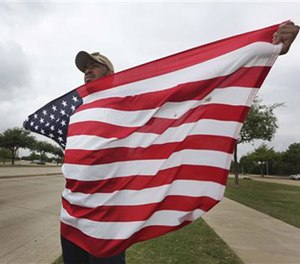 "My training kicked in, and I did what I was trained to do," said Garland Officer Gregory Stevens, one of the first witnesses Wednesday at the trial of a Phoenix man charged with helping to plan the May 3 attack and supporting the Islamic State.
Abdul Malik Abdul Kareem, a 44-year-old moving company owner, is accused of hosting the two gunmen at his home to discuss plans for the attack, going target shooting in the remote Arizona desert with the pair and providing the guns used at the contest.
Kareem is believed to be the first person to stand trial in the U.S. on charges related to Islamic State.
Prosecutor Kristen Brook portrayed Kareem as being obsessed with Islamic State and went so far as to indoctrinate a child in his neighborhood by showing him Internet videos of the group's militants burning a Jordanian pilot in a cage.
She said he was instrumental in helping Elton Simpson and Nadir Soofi in their thwarted attack on the cartoon contest. "The defendant was the third man on a team set on mass murder," she said.
Kareem's lawyer rejected the government's characterization of him being the driver of the attack. Daniel Maynard said Kareem had no knowledge that Simpson and Soofi were going to Texas to carry out an attack.
"This is an overactive imagination for the government," he said.
The U.S. government began its case against Kareem by explaining to the jury the origins and methods of Islamic State and describing how he became an avid follower in early 2015.
Brook said Kareem, Simpson and Soofi watched terrorism videos, beheadings and Islamic State propaganda clips, and had a reverence for anything coming from Anwar al-Awlaki, the American-born cleric killed in a CIA drone strike in 2011 who remains an admired figure among radicals.
She said they originally wanted to acquire explosives to blow up the stadium hosting the 2015 Super Bowl and a nearby shopping center. When that plan failed to materialize, they allegedly set their sights on the cartoon contest in Garland.
Brook cited tweets by Simpson in which he posted a photo of al-Awlaki and said "when will they ever learn," after learning of more prizes available to people participating in the contest.
Bruce Joiner, the security officer who first encountered Simpson and Soofi outside the contest and was shot in the leg during the attack, said he was struck by the huge grin on Simpson's face in the moments before shooting erupted.
"I have never experienced anything like that before."
Copyright 2016 The Associated Press