Officials: Colo. authorities were warned about man who killed deputy
Officials said Matthew Edward Riehl made veiled threats against professors of the law school he graduated from
---
By Kirk Mitchell
The Denver Post
DENVER — Wyoming authorities warned Lone Tree police about bizarre implied threats more than six weeks before a gunman killed a Douglas County deputy and wounded four law enforcement officers, officials say.
University of Wyoming detectives called Lone Tree police and warned that Iraq war veteran Matthew Edward Riehl, 37, had made veiled threats against professors of the UW law school, where he earned a law degree, and that his vulgar, nonsensical rantings were indicative of a mental illness, said Chief Mike Samp of the University of Wyoming Police Department.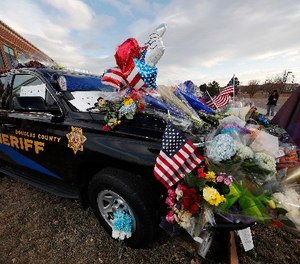 The warning to Lone Tree was made in mid-November, more than six weeks before Riehl shot and killed Douglas County Deputy Zackari Parrish. Samp said it's possible that Colorado authorities faced the same conundrum Wyoming officials do when an apparently mentally ill and dangerous person makes veiled but not direct, imminent threats.
"Wyoming statutes are pretty clear: If someone is not making an immediate threat, they cannot by held for a mental evaluation. They are very tough cases," Samp said.
Sunday morning, four deputies answered a domestic disturbance call to a Highlands Ranch apartment when Riehl allegedly fired more than 100 shots, killing Parrish and wounding three other deputies, a Castle Rock police officer and two neighbors. Riehl was gunned down in an exchange of gunfire with SWAT officers. The injured law enforcement officers were Mike Doyle, 28; Taylor Davis, 30; and Jeff Pelle, 32: and police officer Tom O'Donnell, 41. Two people in adjacent apartments were injured, but their names have not been released.
Law professors at the University of Wyoming first contacted police about veiled threats Oct. 30, Samp said.
Riehl, using the pseudonym Matt Gonzo, posted the threats on websites he created including "University of Wyoming College of Law Veterans," according to Chad Baldwin, university spokesman.
"It certainly did catch our attention. Anyone who read those posts can be left with an opinion that they were threatening. They were certainly alarming and bizarre," Baldwin said. "We opened an investigation."
Reihl also sent veiled threats in emails to the former dean of the law school and several other professors, Samp said. In one posting, Reihl included a picture of him holding an AR-15. Also concerning was Reihl's military background, Samp said. He had served in Iraq. A spokeswoman with the National Guard confirmed to Denver7 that Riehl entered the Army Reserves in 2003 and served in the Wyoming National Guard starting in 2006. The spokeswoman said Riehl was deployed to Iraq in 2009 and was honorably discharged in 2012.
At one point, Riehl posted a screenshot of a Google map location of the shooting at the First Baptist Church in Sutherland Springs, Texas, in early November in which Devin Patrick Kelley, 26, shot and killed 26 people, Samp said. The picture was followed up by a posting of a statue of Socrates outside the UW law school.
Samp posted a uniformed police officer at the law school every day for the next two weeks, he said.
Wyoming associate professor Jason Robison, who was teaching two environmental law classes at the time, recalled how frightening it was when law school officials announced at a faculty meeting that several professors had been getting threats from an alumnus who recently had surrendered his Wyoming law license. Faculty leaders warned that police were taking it seriously. They explained that was the reason there were police and squad cars at the law building.
"They were acting with an abundance of caution. It's totally unnerving to have to worry about these kind of threats in a university law school environment where highly politicized issues are discussed," Robison said. "This is definitely a subject I brought up with my students."
Riehl's e-mails to professors were accusatory and had no basis in fact. The professors replied to him in a professional manner, suggesting he seek out mental health care, Samp said.
"These messages were highly indicative of someone with major mental health problems. It was definitely on the dark side of the spectrum," he said. "Everybody knew Mr. Riehl could use some help."
Samp said he asked the professors to stop replying to Riehl's emails.
"We did not want to escalate his reactions to them," he said.
The police surveillance of the law school in Laramie was discontinued in mid-November when detectives finally tracked Riehl's whereabouts to an apartment in Douglas County. A detective called and spoke with an officer at the Lone Tree police department, Samp said.
Baldwin said Riehl made only obscure threats.
"Our police department did not get an overt threat to act upon," he said.
Samp said they were hoping that Colorado laws might be more flexible, possibly allowing officers to have Riehl committed to a hospital for a psychiatric evaluation.
Riehl also began posting videos on YouTube in November expressing anger at Lone Tree Police Department officers, particularly one officer who appeared to have pulled him over in a traffic stop.
The week before Christmas, Riehl posted a video of himself wearing an Iraqi Freedom Veteran cap where he announced he was running as a libertarian for Douglas County sheriff. He then went on a rambling rant about a specific deputy he accused of being a pimp, and he called Sheriff Tony Spurlock a clown. He did not threaten violence.
In a news conference Sunday, Spurlock said deputies had prior contacts with Riehl, who did not appear to have a criminal record.
At 3 a.m. Sunday, deputies were called to the apartment on a report of a verbal argument between two males, said Lauren Lekander, spokeswoman for the Douglas County Sheriff's Department.
Spurlock said Riehl's roommate, who has not been identified, gave deputies a key to enter the apartment about 5:35 a.m. Riehl, who knew they were coming, ambushed the deputies after they entered the apartment.
SWAT officers entered the house at 7:30 a.m. and exchanged gunfire with Riehl. Officer O'Donnell was wounded at that time.
"It's a terrible incident," Baldwin said. "We offer our deepest sympathies to the victims and their families."
It appears most of Riehl's legal career was spent in Wyoming.
At one point he worked with Macpherson Kelly & Thompson, but in 2014 he opened his own practice, according to a notice from the Rawlins-Carbon County Chamber of Commerce in Rawlins.
Riehl, as a legal intern, worked with the state of Wyoming on a case involving the appeal of a defendant named Blake Leavitt. Police in Alton in 2009 responded to reports of a man spinning his tires, and a high-speed chase began. The court found Leavitt attempted to run over an officer when his car was cornered. Riehl worked on the team representing the state of Wyoming, according to the website FindLaw.
Another case he assisted with while an attorney at MacPherson Kelly & Thompson involved a general contractor who sued the town of Baggs over whether a payment was a "final payment." Riehl was on the losing side in that civil case, FindLaw said.
©2018 The Denver Post
McClatchy-Tribune News Service