Judge rules LEOs, schools had no duty to protect students during Parkland shooting
The judge reasoned that liability only works with incarcerated prisoners or those involuntarily committed, not schoolchildren "with the ability to take care of themselves"
---
By Colleen Wright
The Miami Herald
A federal judge has ruled that Broward schools and the sheriff's office were not responsible for protecting students during the shooting at Marjory Stoneman Douglas High.
That liability, the judge reasoned, only works with incarcerated prisoners or others who are involuntarily committed, not schoolchildren "with the ability to take care of themselves," according to a motion filed last week by U.S. District Judge Beth Bloom.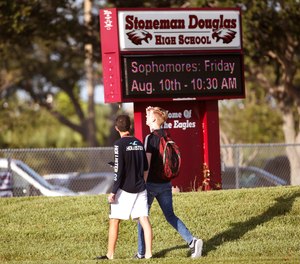 The Sun Sentinel on Tuesday reported that Bloom dismissed a suit filed by 15 unnamed students who say they suffered psychological trauma from the school shooting that killed 17 and injured another 17 in February. The lawsuit claimed the school district and the Broward Sheriff's Office, along with former school resource officer Scot Peterson and school campus monitor Andrew Medina and former BSO Captain Jan Jordan failed through action or inaction to protect the students while at school.
"The claim arises from the actions of [shooter Nikolas] Cruz, a third party, and not a state actor," Bloom wrote. "Thus, the critical question the Court analyzes is whether defendants had a constitutional duty to protect plaintiffs from the actions of Cruz."
Bloom sided with the motions of Jordan, Medina, Superintendent Robert Runcie, Sheriff Scott Israel and the county. It agreed with Peterson's motion in part, but said Peterson's accusations of drug dealing, temporary detainment and confiscation of money from a student (one of the plaintiffs in the suit) were baseless and unreasonable.
"Plaintiffs suggest that the essential nature of a public school's role and control over its students requires that schools provide protection and safety for their students," Bloom wrote. "However, the suggestion that school attendance equates to the level of custody implicating a constitutional obligation to protect has been expressly rejected by the Eleventh Circuit."
Kristoffer R. Budhram of Jacksonville, who represented the students, said in an emailed statement to the Sentinel: "We respectfully disagree with Judge Bloom's decision to dismiss our clients' case. This case is about protecting the Constitutional rights of individuals who were the victims of one of the worst mass shootings in this country's history."
He added, "We are exploring all of our options for ensuring that they get their day in court, including appealing Judge Bloom's decision."
———
©2018 Miami Herald
McClatchy-Tribune News Service