Ford's pursuit-rated pickup comes out on top in Michigan State Police test
The F-150 had the best acceleration of all the vehicles in the line-up and improved its top speed, testers said
---
By Suzie Ziegler 
DEARBORN, Mich. — The new 2021 Ford F-150 Police Responder had the best acceleration of all pursuit-rated vehicles tested this year by the Michigan State Police, according to a report released Tuesday. 
The F-150 can go zero to 60 in just 5.4 seconds, 1.2 seconds faster than the outgoing model and at least 0.4 seconds faster than any other vehicle tested, according to MSP and data from the Los Angeles Sheriff's Department. The truck had the fastest 0-100 mph and quarter-mile times of any police vehicle in the test, including SUVs and sedans.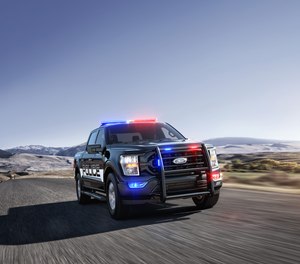 MSP also confirmed that the F-150 can hit a top speed of 120 mph, a 15-mph increase from the outgoing model. 
"Vehicle acceleration and speed contribute to how quickly first responders can safely arrive at 
an emergency scene," said Greg Ebel, Ford police vehicle brand manager, in a statement. "Shaving even a few seconds off response times can make a big difference." 
On the track, the F-150 cut 5.8 seconds off its average lap time in the Michigan tests and 3.6 seconds in the Los Angeles tests (the latter of which added 400 lbs. of payload to simulate cargo), according to the report. 
The truck's automatic four-wheel-drive mode and torque-on-demand transfer provides better traction, officials said, allowing faster starts and more speed when cornering. Its 3.5-liter EcoBoost engine produces 500 lb.-ft. of torque, more than any other pursuit-rated vehicle, according to the report. 
The F-150 is the only pursuit-rated pickup on the market built with law enforcement in mind, officials said.