13 killed, including 2 children, over July 4 weekend in Chicago
The toll comes as the Chicago Police Department added more than 1,200 extra officers to work the holiday weekend
---
Paige Fry
Chicago Tribune
CHICAGO — At least 13 people died and 55 others were injured in Chicago due to gun violence over the Fourth of July weekend so far. Two killed overnight were young, continuing a string of children fatally shot in recent weeks.
The youngest person killed over the weekend was 7-year-old Natalia Wallace, of Chatham. She was shot in the head around 7 p.m. Saturday in the South Austin neighborhood while outside at a family gathering.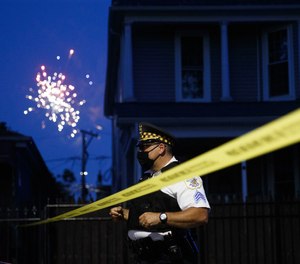 A 14-year-old boy was also shot and killed later in the night in Englewood along with three others who have not yet been identified after four men started shooting at a large gathering, according to Chicago police. Four others were injured in the mass shooting, including an 11-year-old boy and a 15-year-old boy.
This makes the week the third in the row to include the death of a young child. A 20-month-old boy and a 10-year-old girl were killed in separate shootings last weekend. A week earlier, five children were fatally shot, including a 3-year-old boy.
Shootings occurred in 15 of Chicago police's 22 districts from 3 p.m. Friday to 6 a.m. Sunday, according to data kept by the Tribune. Most of the shootings occurred in the South and West sides, which have long experienced gun violence and gang crime. The only North Side shootings occurred in the Rogers Park district.
Another shooting with a large number of victims occurred in the Lawndale neighborhood on the West Side, police said. Six people were shot at about 1:15 a.m. after someone in a vehicle fired into a group shooting off fireworks.
A 20-year-old woman was killed, three men are in critical condition and two other men are in good condition as a result of the shooting.
Last year, six people were killed and 63 were wounded by gun violence over a long Fourth of July weekend.
The last time the Fourth of July fell on a Saturday was in 2015, when 10 were killed and 55 others were injured. This year has already surpassed 2015's death toll with one night left of the weekend.
Within just four hours — from 11 p.m. Saturday to 3 a.m. Sunday — 36 people were shot, over half of the weekend's total so far.
The toll comes as the Chicago Police Department added more than 1,200 extra officers to work the holiday weekend, which was fewer than the 1,500 deployed last year, to curtail overtime and give officers a break.
Police Superintendent David Brown also said at a news conference Thursday that the city would run "strategic missions" to recover illegal guns and work with violence prevention community groups.
McClatchy-Tribune News Service