Beyonce: 'Formation' is not 'anti-cop'
The superstar responded to critics who claimed her controversial single was anti-police
---
By Police1 Staff
LOS ANGELES — In a new interview with fashion-focused magazine Elle, Beyonce claimed her song "Formation" was not anti-cop and said her critics were "completely mistaken."
Beyonce graces the cover of the May 2016 edition of the magazine and responded to critics of her single "Formation" and Super Bowl performance.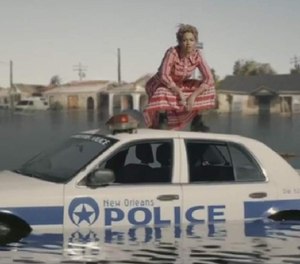 "Anyone who perceives my message as anti-police is completely mistaken," she told Elle. "I have so much admiration and respect for officers and the families of the officers who sacrifice themselves to keep us safe. But let's be clear: I am against police brutality and injustice. Those are two separate things."
The "Formation" music video, set in New Orleans, pans across a wall that reads "stop shooting us" and features a cruiser sinking into water. Another scene shows a boy in a hooded sweatshirt in front of a line of cops with their arms raised. During her Super Bowl performance of the single, she and her dancers paid homage to the Black Panthers.
Several police unions called for a boycott of the singer in response. Former New York Mayor Rudy Giuliani also weighed in, slamming Beyonce for her performance, New York Daily News reported.
"I think it was outrageous," Giuliani told Fox News. "I thought it was really outrageous that she used it as a platform to attack police officers who are the people who protect her and protect us, and keep us alive."
Beyonce told Elle she felt she was celebrating her roots.
"If celebrating my roots and culture during Black History Month made anyone uncomfortable, those feelings were there long before a video and long before me," she said. "I'm proud of what we created and I'm proud to be part of a conversation that is pushing things forward in a positive way."