ICE union slams Portland mayor over protest, asks for police protection
The union representing ICE employees urged the mayor to end his ban on city police helping ICE workers who have faced hostility from pro-immigrant activists
---
Associated Press
PORTLAND, Ore. — The union representing employees of U.S. Immigration and Customs Enforcement urged the mayor of Portland, Oregon, to end his ban on city police helping ICE workers who have faced hostility from pro-immigrant activists.
Sean Riddell, the union's attorney, asked Mayor Ted Wheeler for a meeting about the hands-off policy and threatened legal action if things do not change.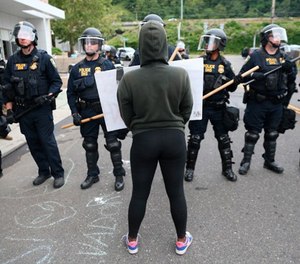 "Your policy has created a zone of terror and lawlessness," Riddell said in a letter Monday.
It stems from a recent protest outside an ICE facility in Portland that was mostly peaceful. Activists opposed to President Donald Trump's policy of separating immigrant families at the U.S.-Mexico border set up camp in mid-June and stayed around the clock for nearly 40 days.
Wheeler, a Trump critic in a state that instituted the first statewide sanctuary protections for immigrants in the country illegally, said in a series of tweets at the start of the protest that ICE would not get help from city officers if the agency wants to evict protesters.
Riddell said he understands that the mayor disagrees with Trump's policies.
"But we fail to see why targeting the employees of ICE and leaving them vulnerable to violence, harassment and even death furthers a legitimate government interest," the union attorney said.
The mayor's office told The Oregonian/OregonLive that Wheeler's legal counsel was reviewing the letter and had no further comment.
Wheeler's chief of staff, Michael Cox, did not immediately return a message from The Associated Press.
The mayor backtracked to a degree as the occupation stretched from days to weeks to more than a month. On July 23, he warned protesters to disband before they were removed by police. The occupation ended peacefully the following day.
The letter emailed to the mayor's chief of staff Monday said the ICE union would like to avoid federal litigation but is "prepared to protect our membership and their families."
The letter references the 14th Amendment, which guarantees citizens equal protection under the law.