NYC ends 2019 with a jump in shootings and homicides
The increase in homicides come amid fears a series of new bail and court procedure reforms could cause crime to spike in 2020
---
By Wes Parnell and Thomas Tracy
New York Daily News
NEW YORK CITY — As the city bids farewell to 2019, the NYPD will say goodbye to the steady decline in homicides it has proudly sustained over the last four years.
For the first time since 2017 the NYPD will end the year with more than 300 homicides, officials said.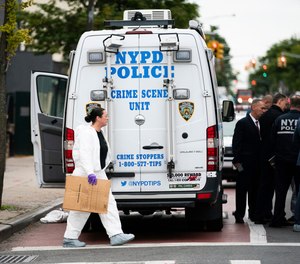 As of Sunday, the city had investigated 315 slayings, 22 more than by this time in 2018, a jump of nearly 8%.
An additional killing — the stabbing of a 31-year-old man in a Bedford-Stuyvesant, Brooklyn, apartment building lobby — took place on Monday, bringing the city's murder toll to 316.
There were 289 murders last year and 292 in 2017, lows the city hadn't seen since the 1950s.
Shootings in the city are up so far this year by 3%, with 772 incidents compared to 749 by this time last year. There were also slight jumps in robberies and assaults.
The city has seen a drop in overall major crime this year, but just barely — police should end the year with a little more than a 1% reduction, or a drop of just over 1,000 crimes.
"The NYPD investigates every homicide, shooting and act of violence to bring justice for victims and ensure public safety," an NYPD spokeswoman said Tuesday.
"When there are upticks, the department works to swiftly target it through deployment, partnerships with the District Attorneys and preventative measures with the public's help. Ensuring public safety requires the continued efforts of the police, and the public, working together to not give an inch."
Striking upticks in homicides took place in northern Manhattan, northern Brooklyn, southern Queens and Staten Island, NYPD statistics show.
The largest jump was in Manhattan North, which saw a 77% increase, from 22 killings last year to 39 this year.
Longtime Bedford-Stuyvesant resident Michael Gill wasn't surprised by the uptick in murders.
"One person killed is one person too many and part of why we seen this problem especially in low-income neighborhoods is because of the school system," Gill said as he walked near where Monday's homicide took place. "We've failed our kids. You don't have to go to a third-world country to see third-world conditions."
Yet teacher Rachel Ignacio, 30, who lives nearby Gill, said she feels safe despite the jump in homicides.
In fact, she feels safer in Brooklyn than in Long Island, where she grew up, she said.
"I honestly feel safer walking my dog around here than in the suburbs," she said.
Pat Lynch, the president of the Police Benevolent Association, on Tuesday predicted a troubling year ahead.
"No one is discounting the gains made by our members in lowering murder & crime since the 1990s, but this year's numbers speak for themselves, and the trend isn't good," Lynch tweeted as he posted a New York Daily News editorial about the jump in homicides. "They're a direct result of 5+ yrs of policies that undermine our work."
Cops had been bracing for the jump in homicides, which had been predicted since the end of the summer.
In an NYPD press conference earlier this month, Chief of Crime Control Strategies Lori Pollock suggested the surge in murders is a statistical anomaly, noting that 27 deaths that happened in prior years were reclassified as homicides this year. There were only 13 such re-classifications last year, Pollock said. A crime is re-classified if, for instance, a person shot in 2010 dies in 2019.
Mayor de Blasio also made it clear that the jump in homicides will not stand.
"It's simply not acceptable," Mayor de Blasio said during a press conference earlier this month. "Let me me clear: Everyone's doing their job and everyone is digging deeper to get under the skin of this and address it. But we are not going to accept this situation."
"For much of the year, we actually had fewer homicides than at the same time last year," de Blasio added. "In the last weeks we've had some real challenges and we're going to address those challenges. And we will turn this situation around."
In the same press conference, Police Commissioner Dermot Shea said that the city's violent crimes were being committed by a "small number of people."
The jump in homicides come amid fears a series of new bail and court procedure reforms could cause crime to spike in 2020 — as the NYPD celebrates its 175th year.
The removal of cash bail for most misdemeanor crimes going into effect Jan. 1 in particular will lead to more crime, many police union heads warn.
"The criminal element in NYC & State have no fear of the criminal justice system," Ed Mullins, the president of the Sergeant's Benevolent Association, tweeted Tuesday.
"DeBlasio & other elected officials support . . . criminals," Mullins wrote. "Cops & working people are now looked upon as the bad people. New Yorkers should brace themselves things are about to get really bad soon!"
McClatchy-Tribune News Service