Police horses are here to stay — despite the rumors, Fla. city says
Chief Larry Scirotto says the horses are great for tourism and events, but admits it can be hard to show they're fighting crime
---
By Susannah Bryan
South Florida Sun-Sentinel
FORT LAUDERDALE, Fla. — These four-legged beauties are spirited, majestic and trot around town with a badge.
Horses have been patrolling the streets of Fort Lauderdale for nearly four decades, ever since the police needed a little help controlling rowdy spring break crowds.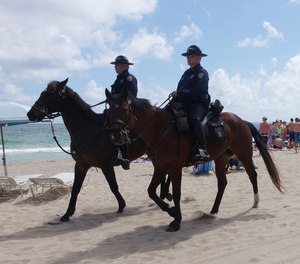 In all that time, the town has grown to love its mounted patrol unit and doesn't take kindly to any talk of disbanding it or even downsizing.
Fort Lauderdale's new police chief, Larry Scirotto, found out the hard way.
"I made one mention of this in a meeting and the whole city has lost their minds," he told a reporter who'd gotten a tip the unit was being disbanded.
It's not true, the chief says. But he does admit to challenging the mounted unit to show it's helping fight crime and makes sense to keep around.
The department's mounted patrol unit is made up of one sergeant, six officers and nine horses: McCoy, Dexter, Titan, Thunder, Jester, Ford, Ash, Wolf and Whiskey, the only mare in the bunch.
The horses are typically used for routine daily patrol, ceremonial events and tourism, says Detective Ali Adamson, spokeswoman for the department.
There are things an officer on horseback can do that an officer on foot or in a patrol car cannot, police say.
[RELATED: Why agencies should keep mounted, bike and foot patrols]
"Mounted unit officers are much more approachable to the public since they are not in a vehicle," Adamson said. "It is often easier for people to approach an officer and for the officer to provide information. This unit is vital during special events, holiday weekends, protests and civil unrest because one mounted unit officer can be as effective as 10 officers on foot."
But Fort Lauderdale's nine horses require feeding, care and attention at the unit's stable in Holiday Park.
Money and manpower
The chief, who took the reins in August, says he's asking tough questions of the entire department, not just the mounted patrol.
Scirotto says it's his job to scrutinize every position and every specialized unit in the department. The agency has 530 sworn officers but only 197 are assigned to road patrol. The rest of the force is assigned to specialized units or working as detectives or command staff.
"Are they luxuries or necessities?" the chief said of the specialized units. "Are they the best use of resources? I have to ask those questions."
Fort Lauderdale isn't the only city in South Florida with cops patrolling by horseback. Police horses remain on patrol in Davie, Miami, North Miami, Doral, Coral Gables and the Palm Beach Sheriff's Office.
But some cities have disbanded their mounted patrols in the face of budget cuts: Boston, San Diego and more recently, Baltimore, Las Vegas and Kansas City.
In Fort Lauderdale, eliminating the mounted patrol unit would save the city only $207,000 a year. That money goes toward the feeding, training and care of the horses, not the salaries of the six officers and sergeant who run the unit.
The last time there was talk of sending Fort Lauderdale's police horses out to pasture was in 2003, during a lean budget year.
The town pretty much went bananas, say those who remember.
After the public outcry, Fort Lauderdale opted to thin the herd from seven to four instead of disbanding the unit.
Mayor Dean Trantalis remembers it well.
"Like it was yesterday," he said.
Trantalis promised the mounties won't be riding off into the sunset anytime soon.
[RELATED: Riding tall in the saddle while wearing a badge]
"They're an iconic image of Fort Lauderdale and an important tool in law enforcement," he said. "It's not just window dressing. We will never eliminate the mounted patrol from our police department. That won't happen."
Fort Lauderdale formed its mounted patrol unit in December 1983 to help calm unruly spring break crowds. But the unit doesn't just patrol the beach. It patrols neighborhoods in every part of the city.
'Who doesn't love horses?'
Alex Piquero, a University of Miami professor and criminology expert, says there's a reason some cities use horses in police work.
Mounted officers can maneuver through alleyways and narrow streets better than a patrol car, Piquero said. And they can spot trouble in a crowd much easier from atop a horse.
"Horses can go into places that cars can't," Piquero said. "Think of an alleyway or a beach. And they can be much quicker than people running. Horses can go on sand and they can also go on the road. It does create much more visibility for an officer to look at people and behavior."
Plus, when you're trying to control a crowd, people tend to move out of the way when they have a 1,500-pound muscled creature coming toward them, proponents say.
And then there's the public relations appeal — something you just can't buy.
"On one level, it's actually a really good way to talk to people," Piquero said. "You see this beautiful horse and you pet the horse. Who doesn't love horses?"
Fort Lauderdale's police horses, popular with children as well as tourists, pose for selfies with admiring fans. They strut in festivals, parades and special events, spreading good will and a positive image for the city and the officers who patrol its streets.
Still, not everyone likes the idea of using horses in police work.
For the horses, police work can lead to injury in a job they never signed up for, said Kathy Guillermo, senior vice president with the animal-welfare group PETA.
"In a riot situation, they are vulnerable to stabbing, punching, shooting," she said. "It can be very dangerous. And they don't volunteer for this. It's not like they signed up for the police academy."
Don Anthony, a longtime animal rights advocate, echoed those concerns.
"Humans choose to be in the police department and can quit anytime they want," he said. "Horses don't have that luxury. When you have a wild situation where people are rioting, the horse can get spooked, frightened, panicked and injured. There's other ways the police can spread goodwill without involving animals."
Spreading the love
But resident Michael Albetta can't imagine Fort Lauderdale without its mounted patrol.
"That unit has been in Holiday Park since God knows when," he said. "It's a Fort Lauderdale institution. To see an officer on a horse always brings a smile to your face. When tourists see the mounted unit on the beaches, that is an eye catcher. People are always taking pictures of the horses on the beach."
Longtime resident Jacquelyn Scott still remembers people flooding City Hall to protest when the city toyed with the idea of getting rid of its police horses.
"There was a huge outcry," she said. "So many people love them. They're a positive image for law enforcement and for the city. They're worth a lot more than $207,000."
If there's ever a change of heart down the line and the department decides to give the equine unit the boot, Scott predicts another community outcry.
Departments that do shut down their mounted patrol units discover it's not as simple as hanging up the badge. Every horse would need a safe place to go to live out their retirement.
When a horse is ready to retire, the department contacts Mill Creek Farm, an equine sanctuary in Alachua outside Gainesville. But usually, the department says farewell to one horse at a time.
"It would be very difficult to find homes for all nine of our horses," Adamson said. "They wouldn't be able to take all nine at one time."
Susannah Bryan can be reached at sbryan@sunsentinel.com or on Twitter @Susannah_Bryan
©2021 South Florida Sun-Sentinel. Visit sun-sentinel.com. Distributed by Tribune Content Agency, LLC.
McClatchy-Tribune News Service