Prone subjects: Deadly in an instant
The Hillsboro (Ore.), Police Department and the Force Science Institute partner to explore threats posed by prone suspects — the Discovery Channel videotapes it
---
On Saturday, April 25, 2009, Okaloosa County (Fla.) Sheriff's Deputy Burt Lopez and Deputy Skip York were shot and killed while attempting to arrest a domestic violence suspect who had been located at a gun club in Crestview. The subject, who was standing beside his truck in the gun club's parking lot, refused to comply with orders to get on the ground. Deputy York delivered a five-second hit from his TASER, which grounded the subject. Immediately after the TASER cycle had ended, the suspect drew a concealed handgun and opened fire. Both deputies were airlifted to a nearby hospital in Pensacola, but later succumbed to their wounds — officers killed the suspect later that day.
One of the most dangerous positions a suspect can assume on the ground is prone with his hands tucked under his body, either at chest or waist level. What's hidden in those hands? If it's a gun, how fast can he twist and shoot as you're approaching him?
The short answer to that question is, "Deadly fast." The longer answer will be revealed in coming weeks by the Force Science Institute, a strategic partner to Police1 and one of the foremost authorities on use-of-force issues.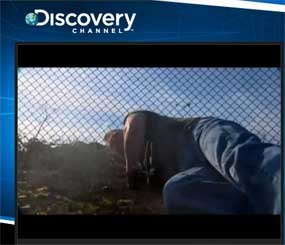 A first-of-its-kind study — funded in part by the Hillsboro (Ore.), Police Department — is designed to document exactly how quickly a prone subject can produce a firearm and fire on an officer. The Force Science research team spent a week in Hillsboro filming a group of individuals enacting this kind of scenario and the Discovery Channel, whose producers found the study to be both important and intriguing, sent a film crew to the research site.
Before reading any further, check out this video, which is currently only available to U.S. audiences online (when the host of the show gets to the part about 3-D teleconferencing, you can close that window and come right back — we'll wait here). 
"When a prone suspect resists showing his hands when an officer orders him to or attempts to pry them out, officers become very suspicious and fearful about what his motive is. And justifiably so," says Dr. Bill Lewinski, executive director of the Force Science Institute. "FBI research has shown that suspects with concealed weapons most often carry them to the front of their bodies. So, when prone, they may have easy access to a weapon or already be holding one."
Lewinski says, "Until the hands are controlled, officers are very vulnerable in this circumstance, and they often use a fairly high level of force to gain control of the hands because of their concern. They may deliver strikes with batons or flashlights that to naïve civilians watching a video clip on television, may look like malicious outbreaks of rage and vindictiveness."
Force Science has conducted prior research into subject motions and documenting the amazing speed with which an attack can be launched from a variety of positions — turning and shooting while running, drawing and shooting while seated in a vehicle, and so on.
"The prone study is an important extension of this sequence," Lewinski explains, "and is expected to further pinpoint the formidable reactionary curve that officers are behind when attempting to prevent or respond to potentially lethal assaults."
The key, as is so often the case, is training for such a scenario, and being mentally ready with a rehearsed plan of action. Under stress, if you think common sense is going to kick in, it's not going to.
You have to train yourself to say what needs to be said. You have to have a plan on what words you're going to use — and what position you want this guy in — and then, draw a line in the sand. You have to tell them specifically what you want them to do and what the consequences are if they fail to comply or change their position. You need to say, specifically and without profanity, what you want that guy to do, and tell him, 'If you move your hands toward your body I will shoot you a lot'.
Cops are dying — at times literally — to have this type of information shown to the public, and we can thank the Discovery Channel for producing this segment which aired last night on some of the network's affiliates in Canada. When we really think about it, it's no great surprise that Discovery — parent company to the Military Channel — has come out with a piece that's so supportive of police officers. It's a shame that major networks fail to do this, but that's another issue altogether...
Officers and agencies are constantly under public scrutiny because of a misconception that a prone subject is a helpless subject, and therefore any video footage of a couple cops forcibly subduing — or using deadly force on — a prone subject is considered "excessive." The fact is, a prone subject can easily fire from that position in an unbelievably short period of time. Just how fast will be determined by Force Science in coming weeks — the videotape and data gathered in Hillsboro is now being analyzed and the results will be widely reported once complete. 
In the meantime, we want to know what you think, so take a moment to watch the video clips above and add your comments below.