Cop shot in Breonna Taylor case defends actions, slams mayor in mass email to police
Sgt. Jonathan Mattingly criticized city officials of "failing all of us in epic proportions" in an email sent to hundreds of his colleagues
---
By Suzie Ziegler 
LOUISVILLE, Ky. — A Louisville police officer who was shot in the thigh during the fatal shooting of Breonna Taylor sent a polarizing email to hundreds of his colleagues on Tuesday. In the six-paragraph email obtained by USA Today, Sgt. Jonathan Mattingly defended his actions the night Taylor was killed and criticized city officials. 
Screenshots of the email were first published to Twitter on Tuesday by a Vice News correspondent. An attorney for Mattingly later confirmed the email's authenticity, according to USA Today.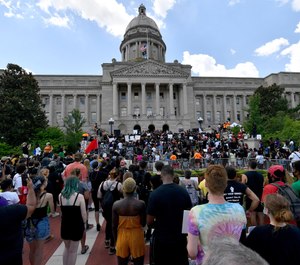 In the email, Mattingly blamed Mayor Greg Fischer, as well as Public Safety Chief Amy Hess and former Louisville Metro Police Chief Steve Conrad, for "failing all of us in epic proportions for their own gain and to cover their asses." 
Fischer's office did not immediately respond to a request for comment, said USA Today. 
"Regardless of the outcome (of the Kentucky attorney general's decision) today or Wednesday, I know we did the legal, moral and ethical thing that night," Mattingly wrote in the mass email. 
The sergeant also apologized to his fellow officers. 
"You DO NOT DESERVE to be in this position," he wrote. "The position that allows thugs to get in your face and yell, curse and degrade you. Throw bricks bottles and urine on you and expect you to do nothing." 
Mattingly said that the agency and the FBI would open civil rights investigations against officers for making mistakes. 
"Your civil rights mean nothing," he wrote, "but the criminal has total autonomy." 
A spokesperson for Louisville Metro Police said the agency didn't release the email but the matter is now under review, according to USA Today.