Lakers melee tests new LAPD policies — officers meet the challenge
---
By Corina Knoll, Andrew Blankstein, and Richard Winton
Los Angeles Times
LOS ANGELES — As the mood of the crowd outside the Staples Center turned quickly from jubilation over a Lakers victory to something more destructive, Los Angeles police knew they had to finely calibrate their response to avoid the public relations debacles of the department's recent past.
Officers had to control a group of "knuckleheads," in the words of Los Angeles Police Chief William J. Bratton, yet avoid trampling the rights of hundreds of people who turned out to celebrate the Lakers' first championship win in seven years.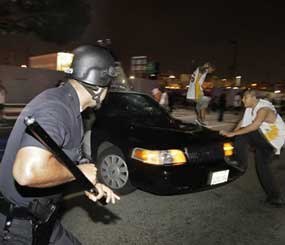 They could not have a repeat of the immigration rights protest in MacArthur Park in 2007, when police battered dozens of peaceful protesters and journalists with batons and bean-bag rounds, costing the city more than $10 million in legal settlements and prompting an overhaul of the LAPD's crowd-control procedure.
The new strategy: Remove the rabble-rousers, push larger crowds into marginal areas and chase smaller groups until they disperse.
In their Monday morning analysis, police commanders declared the approach a success, limiting injuries and property damage, and showing the public that the department could restrain the use of force.
The crowds did manage to loot several stores, break windshields, vandalize police cars and MTA buses -- as TV helicopters captured the chaos for the world to see. But the LAPD says officers balanced many interests in confining the chaos as best they could.
"We cannot afford to be involved in responding in a knee-jerk way," said Assistant Chief Earl Paysinger. "Too much is at stake. You're talking lives, property and elusive public confidence."
The trouble started at 8:30 p.m., when people outside the Staples Center began lighting Orlando Magic jerseys on fire. Soon, trash cans and trees went up in flames.
Officers ordered the crowd to disperse. But several bands of young men split off. They stomped car windshields, tossed traffic barricades, ripped out parking signs, tagged walls, threw rocks through windows.
Two men ran across a line of police cars and kicked in a windshield.
At Pico Boulevard and Flower Street, a group stormed a vintage shoe store called The Holy Grail and stole nearly 800 pairs of consignment sneakers.
At Grand Avenue and Olympic Boulevard, about 20 men wearing Lakers apparel swarmed into the convenience store at a Shell gas station shouting, "Free soda, free soda." They smashed bottles on the floor, trampled bananas, grabbed what they wanted -- water, chips, candy, six-packs of soda -- and left.
"Everything happened so quick," said German Bonilla, 27, who was working the night shift at the store. "I was just standing behind the counter. I wasn't going to do anything because there was so many of them."
By midnight, the melee was over.
Eight Los Angeles police offers suffered minor injuries, 21 people were arrested, 12 government vehicles, including six MTA buses, were damaged, and one traffic light was knocked down, authorities said.
In addition to the shoe store and Shell station, looters hit a pharmacy.
And they threw debris on Metro Blue Line tracks, delaying the trains for hours.
Paysinger said it could have been a lot worse.
When the Lakers won the NBA Championship in 2000, mobs burned two LAPD patrol cars and damaged at least 74 other vehicles at auto dealerships near the Staples Center.
Several months later, police ratcheted up their response, repeatedly clashing with protesters at the Democratic National Convention.
Sunday night, it seems, the pendulum came to rest in the middle.
Attorney Carol Sobel, who represented plaintiffs who sued the LAPD over its response to protesters at MacArthur Park in 2007 and at the 2000 Democratic National Convention, said she believes the department has learned from its past mistakes.
"They didn't come out in all their riot gear and I think that helped. You saw the line officers and it created a different dynamic. They were able to disperse people and do it in a less confrontational manner. They had a presence but they moved out people without the level of confrontation that existed in the past."
Monday morning, Richard Torres wished they could have saved his shoe store. He spent the night cleaning up the mess left by rioters.
Torres, 29, had been watching the Lakers game at his father's house in Corona on Sunday night and saw images of the riot on the news. He recognized the intersection of Pico and Flower, where his store is located. Torres and his girlfriend, who manages the store, headed downtown.
When they arrived, less than an hour after the game ended, shoe boxes were scattered all over the block. Some shoes had been lit on fire and thrown down the street. They came through the back door of the store and saw that the storage room was nearly empty. Fewer than 20 pairs of shoes were left of about 800 pairs of consignment sneakers.
Neighbors told them the rioters had ripped open the back door while chanting, "We want shoes, we want shoes." Glass display cases had been shattered. Two computers, cash, sunglasses and hats were looted.
Torres' eyes grew teary looking at the mess on the floor. "It makes me not want to be a basketball fan."
He said he opened the store near the Staples Center in November 2007 because he was a Lakers fan and he thought the post-game crowd would be the right clientele for his consignment sneakers. He estimated that his loss was about $140,000. Monday morning, police arrested a man and a woman who live in the same building as the store. Officers found six boxes of shoes in their apartment.
Copyright 2009 Los Angeles Times