Rochester mayor names first woman as interim police chief amid protests
The previous police chief was fired by the mayor this month over his handling of Daniel Prude's death
---
By Dave Goldiner
New York Daily News
ROCHESTER, N.Y. — Mayor Lovely Warren has tapped a Black woman to lead the police department in Rochester, N.Y., amid ongoing protests over Daniel Prude's death.
Cynthia Herriott-Sullivan, a former Rochester police lieutenant, will become the first woman to head the department on Oct. 14.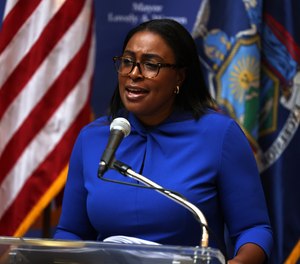 The previous police chief, La'Ron Singletary, was fired by the mayor this month over his handling of Prude's caught-on-camera arrest.
"I know these are tough times right now, but I believe strongly that we all bring our best to the table and we'll be able to get it done," said Herriott-Sullivan, who now works as an administrator at the city's public housing authority.
Warren, in a Saturday press conference, said she hopes Herriott-Sullivan will help the department turn a new leaf.
"I am confident that she will bring a different perspective and instill a fresh approach to policing, both of which are very much needed in our city, particularly at this difficult time," Warren said.
Prude was arrested on March 23, but his family released body cam video earlier this month of officers putting a hood over the Black man's head and pressing his face into the pavement. The clip went viral and sparked days of protests across the city.
Demonstrators have accused the Rochester police department of covering up the arrest, and are demanding to know why it took months to release the video.
Warren said earlier this month that the interim chief would serve until June, giving the city time to conduct a national search for a permanent replacement.
Next: From footprints on the moon to female Mounties on patrol: Catalysts for change
©2020 New York Daily News
McClatchy-Tribune News Service