Conn. state police get $2.3M grant to fight heroin, fentanyl trafficking
In Connecticut, fentanyl was involved in 84% of drug deaths last year, up from 25% of fatal overdoses just five years prior
---
By Rebecca Lurye
Hartford Courant
HARTFORD, Conn. — Connecticut state police will use a $2.3 million grant from the Department of Justice to support its investigations of heroin, fentanyl and other opioids, which caused a record number of drug deaths last year.
The state Department of Emergency Services and Public Protection is one of 13 law enforcement teams receiving funding this year from the federal Anti-Heroin Task Force Program. The DOJ's Office of Community Oriented Policing selected agencies in states with high rates of admissions into detox and rehabilitation programs for heroin, fentanyl and other opioids.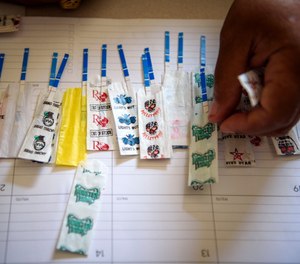 Nearly half of all clients in state addiction programs last year were admitted for use of heroin or other opioids, with heroin being the most common.
That's across more than 10,000 people who entered detox and rehabilitation programs through the Connecticut Department of Mental Health and Addiction Services in fiscal year 2020, and tens of thousands more who were admitted to outpatient programs.
While most people entering treatment say they are addicted to heroin, the drug is now commonly mixed with illegally-made fentanyl, a synthetic opioid that is 50 to 100 times more potent than morphine.
[RELATED: Evolving strategies to win the war on opioids (eBook)]
Experts say this is what's driven America's surge in fatal overdoses in recent years, a trend that continued into the COVID-19 pandemic. Drug deaths killed about 94,500 people in the U.S. last year, a 30% increase from 2019, according to provisional data from the Centers for Disease Control and Prevention.
In Connecticut, the prevalence of fentanyl has grown dramatically. It was involved in 84% of drug deaths last year, up from 25% of fatal overdoses just five years prior, according to state statistics. The number of fatal overdoses also doubled in that time, from 728 deaths in 2015 to 1,369 in 2020, a state high.
State law enforcement teams in Massachusetts, New Hampshire, New Jersey and Pennsylvania also received multimillion dollar awards from the Anti-Heroin Task Force Program.
"The Department of Justice is very pleased to provide these critical public safety resources and continue supporting law enforcement efforts to battle against the national crisis posed by the manufacture and distribution of methamphetamine, heroin and prescription opioids," Associate Attorney General Vanita Gupta said in the announcement Monday. "This funding will help to greatly reduce the availability of lethal drugs and maintain health and safety in our communities."
Several other Northeast states also received funding under the COPS Office's Anti-Methamphetamine Program. State law enforcement agencies in Massachusetts, New Jersey, New York and Pennsylvania received a total of $6 million through that program.
©2021 Hartford Courant. Visit courant.com. Distributed by Tribune Content Agency, LLC.
McClatchy-Tribune News Service