PRESS RELEASE
Praetorian Digital Launches GovGrantsHelp.com to Simplify Grants Process for Local Government Professionals
---
Website to be most comprehensive database and resource for local government grants online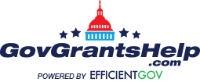 SAN FRANCISCO, CA – Praetorian Digital, the leading digital media company in the public safety and local government market, has announced the expansion of its Grants division with the launch of a fourth grants assistance website GovGrantsHelp.com, an unparalleled resource for grants research, consulting and expertise for the local government community.
GovGrantsHelp is dedicated to providing local government leaders with grant research and assistance across all categories of federal, state and foundation grants including community development, transportation, water/sewer and health among many others. The site provides original content developed by Gov1.com, a leading information service and website for local, county and state government officials, and is designed to provide resources to the spectrum of government officials who need aid in finding grant funding. This content includes access to GrantFinder, the most cost-effective online grants research database, currently used by more than 1,000 subscribers each month.
According to Gov1 Founder and Publisher Barry Greenfield, "GovGrantsHelp is really the next step in the evolution of providing local government with a one-stop solution in their efforts to find grant funding. Tying GrantFinder and the content from our GrantIntel newsletter together with a national network of grant writing experts will ease the burden on cities, counties and towns that seek grant funding."
Praetorian Digital's Grants Program launched in 2009 and consists of PoliceGrantsHelp.com, FireGrantsHelp.com and EMSGrantsHelp.com. The program has a network of more than 30 grant writers from across the nation and provides a comprehensive resource for public safety grant information and assistance all in one location.
Over the past year, Praetorian has expanded its business across the local government space with the acquisition of Gov1.com and LocalGovU.com, one of the leading online training companies serving local governments and risk pools nationwide. With the acquisitions came the opportunity to round out Praetorians local government and grants offerings with the development of GovGrantsHelp.com, a grants resource and community for local government leaders.
"I am incredibly excited to be able to expand our grant assistance services into the local government segment," said Sarah Wilson, Director of the Grants program at Praetorian Digital. "There is a real need to provide these services at the local level and with our team of expert grant writers and consultants I am certain we will see the same great results we've had with our public safety sites."
To date, Praetorian's Grants division has generated close to $50 million in reported funding to Police, Fire and EMS agencies nationwide.
To learn more or to register for free access to the site, visit www.GovGrantsHelp.com.
About Praetorian Digital
Founded in 1999, Praetorian Digital is the leading digital media company in the public safety and local government market. Our properties are visited by more than 5 million public safety and local government officials every month and count over 1.3 million first responders and government personnel as members. Praetorian owns and operates PoliceOne.com, FireRescue1.com, FireChief.com, EMS1.com, Corrections1.com, Military1.com and Gov1.com as well as more than 15 topical public safety websites providing resources ranging from accredited online training to grant funding assistance. We are deeply committed to providing cutting-edge information and resources that help first responders, government officials and military personnel better protect themselves and serve their communities.
About Gov1
Gov1 is the leading information service focused on cross pollinating cost-effective and innovative policy to municipal officials in the US and 56 other countries. With municipal officials becoming very creative in the face of diminished state and federal aid, we believe there is a need to spread the word about how local government is evolving. Our website and weekly email newsletter reaches more than 44,000 Mayors, City Managers, Town Administrators, Chief Administrative Officers, County Administrators and elected officials all 50 states.
For information on how to build your municipal client base through Gov1, visit: efficientgov.com/advertise/.  
About LocalGovU
LocalGovU is one of the leading providers of online training for local government nationwide and works directly with cities, counties and risk management groups to provide high quality, accredited training that reduces liability and mitigates risk. The LocalGovU system consists of more than 200 courses covering topics ranging from law enforcement and corrections to HR and environmental safety. LocalGovU law enforcement and corrections courses have been approved by POST agencies in Idaho, Maryland, Mississippi, Missouri, Minnesota, New Mexico, Nevada, Oklahoma, and South Carolina, and recognized by Georgia, Kansas, Nebraska and TCLEOSE in Texas. For more information, visit www.LocalGovU.com.