2 officers, 3 others dead in Las Vegas shooting
The spree began late Sunday morning when a man and woman walked into CiCi's Pizza and shot two officers who were eating lunch
---
By Martin Griffith
Associated Press
LAS VEGAS — Two suspects shot and killed two police officers at a Las Vegas eatery Sunday before fatally shooting a third person and killing themselves inside a nearby Walmart, authorities said.
The spree began late Sunday morning when a man and woman walked into CiCi's Pizza and shot two officers who were eating lunch at point-blank range, Las Vegas police spokesman Larry Hadfield said.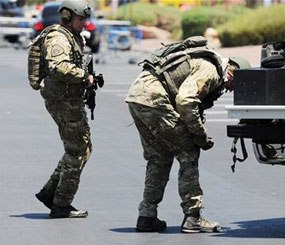 The suspects then fled to the Walmart across the street, where they fatally shot a person inside and then killed themselves in an apparent suicide pact, he said.
None
"I am devastated by the news today of two officers and an innocent bystander who were murdered in an act of senseless violence," Gov. Brian Sandoval said in a statement. "My thoughts and prayers go out to the victims and their families."
One of the suspects yelled, "This is a revolution," but the motive for the shooting remains under investigation, Hadfield said.
"We don't know anything about the suspects yet and are trying to learn more," Hadfield told The Associated Press. "I think in any case where people are ambushed and shot it's upsetting to the public."
Clark County Assistant Sheriff Kevin McMahill said the male suspect yelled "everyone get out" before shooting at Walmart. The suspects then walked to the back of the store.
The names of the suspects and victims and their cause of death will be released by the Clark County coroner's office.
Walmart employees and shoppers were taken to a nearby clothing store to be interviewed by police. The restaurant and Walmart remained closed as detectives processed evidence.
Walmart issued a statement saying it's working with police on the investigation.
"We express our deepest condolences to everyone who has been affected by this senseless act of violence," company spokesman Brooke Buchanan said.
McMahill said the investigation is "very complex" because it involves more than 1,000 witnesses.
Copyright 2014 The Associated Press