30 years since the Academy: Remembering those we lost from the 1989 Alpha graduating class
It's been 30 years since 43 of us crossed the stage and started our careers in the San Antonio Police Department – sadly, not all of us are here to celebrate that anniversary
---
By Captain David Scepanski
November 17, 2019, marks the 30th anniversary of service to the city of San Antonio for the Class of 1989 Alpha. That night, three decades ago, 43 of us crossed the stage and in doing so went from cadets to the ranks of the San Antonio Police Department (SAPD).
Our lives changed that day in ways we could never have imagined.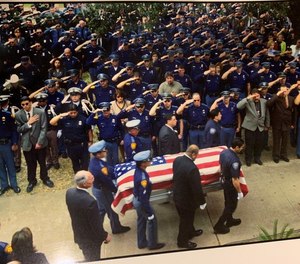 We were the first class to graduate from the newly constructed SAPD Police Academy. The staff prepared us for our careers in every possible way. They highlighted the dangers of our profession and made sure that those who had fallen in the line of duty were enshrined in honor to remind us of the sacrifices they made.
But for most of us, that reality wasn't considered.
The next 24 months was humbling, bringing us face-to-face with the realities of life in uniform, as two of our classmates fell in the line of duty and a third was shot three times and thankfully survived. Ten years later we would again lose a classmate to a third line of duty death, testing our resolve – and, at least for me, the loss left me questioning the unanswered "why" that comes with the negative side of repeatedly catching lightning in a bottle.
Reflection can be healthy, and it can be troubling. Evaluating what has happened to apply things we have learned is expected. It makes us better at what we do. The other side of reflection is not so well defined. Reliving losses can be painful. The ability to find peace in your sleep should be natural, but it is much harder to do when your mind repeatedly takes you back to the sound of taps, followed by the emergency tone that breaks the unsettling silence before a voice declares the fallen "out of service." Then comes the jolting volley of 7 rifles fired 21 times. I still flinch every time I hear that gunfire. Not much peace or rest in that.
But fate wasn't quite done with us yet.
Thirty years of police work can have varying effects on those who make it through. Almost across the board, there is the indescribable feeling of being able to retire on your own terms. For some, satisfaction comes from the pride of having served their community well and making countless unquantifiable differences. Some others sprint to the exit protesting the entire way about how their department has changed and, in some way, betray all who come before them. I'm not one of those people. For me, it's a time to reflect on and relive those moments that pass by so fast. It's experiencing fleeting flashes of pride, accomplishment, change and sorrow while reflecting on friends lost. It would have been their 30th service anniversary too.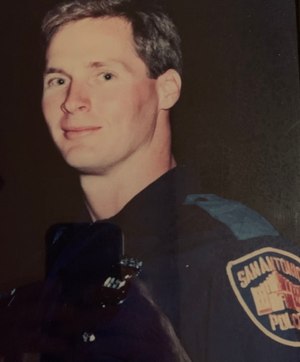 Roger Carl Henarie was lost just four months after graduation on April 13, 1990. I swear that guy came right off a recruiting poster. He was 6'1" and 200 pounds of muscle, and a celebrated athlete at both the high school and collegiate level. He was our Sergeant-at-Arms (go figure) and a legacy kid. The son of a 30-plus-year detective, Roger was destined for this job. He died in the early morning hours on that April night responding to assist another officer following a vehicle that had come back stolen. Roger never made it where he was going; he died that night on a curve along Callaghan Road when his car was nearly cut in half by a telephone pole. Turns out the car wasn't stolen after all. It had previously been recovered and hadn't been canceled out of the system. Roger was #1 in driving out of our class.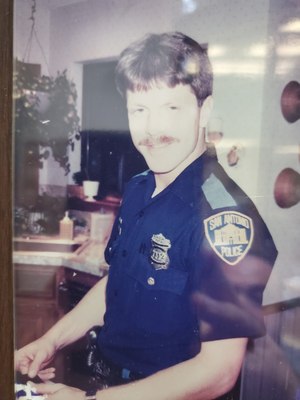 Douglas Scott Goeble was murdered a year later on April 20, 1991. He was shot from behind that April afternoon as he was taking his dinner break at a Churches Chicken on East Commerce Street that has since been torn down. Doug was a former police officer in both Big Spring, Texas, and Balcones Heights, Texas. His previous experience made him "less wide-eyed" than the rest of us, and he was quiet and watchful. He was reserved but willing to calm classmates down when the days got tough. He would disappear daily to take smoke breaks and return before anyone knew he was missing. Doug had faced tragedy before. His best friend, Balcones Heights Police Officer Scott Rogiers, was shot and killed by a driver he had stopped in the months preceding our academy start date. Doug was killed just two short years later.
Guillermo "Willie" Cantu had returned home from being out with some friends after getting off of a patrol shift in the South Service area. As he walked through the parking lot of the Applegate apartment complex, he saw a male attempting to steal a vehicle. Willie instinctively gave chase and closed the distance quickly. As Willie neared the suspect, the suspect turned and fired several shots. Willie suffered three gunshots that night and was critically injured. The suspect was identified, arrested and convicted. Willie spent the next year rehabilitating and regaining his strength. He would return to light duty with SWAT. Willie's determination and hard work earned him a spot on the team where he served for most of his career. Willie would later promote to Detective and is now assigned to the Repeat Offenders Program. The person that shot him was released a few years ago, serving less time than Willie's service to our city. No irony there?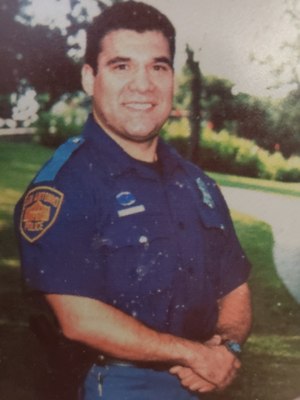 Ten years later, John "Rocky" Riojas was shot and killed on  February 3, 2001, during an altercation with a burglary suspect in the parking lot of a NW side apartment complex. Rocky's death, unexplainably more than the others, caused me to question my mortality. Rocky was a pugilist, a golden gloves boxer trained by his dad. He was funny and a prankster. He was a workout junkie and always ready for anything that may come his way. He never looked for a fight but if there was one to be had, it wouldn't have to look far to find him. Rocky had just celebrated the birth of his son a little more than a month before his death. Rocky is our department's only active SWAT officer to fall in the line of duty, although the team would be tested again in a shooting incident some years later. Fortunately, all those involved survived their injuries and returned to their assignments.
They say tragedy comes in threes. For us, sadly that rule didn't apply. In 2007, yet another classmate would be critically injured in a major accident after executing a search warrant as a member of the Repeat Offenders Unit. The driver of the non-impact vehicle that caused the accident remains unidentified to this day. Mike Helle was in critical condition but would recover from his injuries after months of rehabilitation. He would eventually return to his duties with the Repeat Offenders Unit. Mike would go on to run for President of the SAPOA and continues to hold the position today. He is the longest-tenured SAPOA President in its 73-year history. Mike now has two sons serving with him in our department.
August 2015 would again bring news of another great loss. Michael Gorhum would tragically, and for almost all of us, unexplainably take his own life. Mike's personality was electric. He had a lightning-fast wit and was the center of good times both on and off duty. Mike was easily the most liked person in our class. Before his death, if anyone would have asked our class who was the funniest, happiest, most emotionally stable person of our class, unanimously the answer would have been Mike. We couldn't have been more wrong. Mike's death serves as a sobering reminder there is often much more to see than that what is before us.
The deaths of these officers and these incidents challenged our class to go beyond what an academy can teach. It taught us fortitude.
Fortitude is a word that isn't used much these days. It evokes an image of unwavering tenacity and inner strength. It can't be taught. You have to live through something to find out if you have fortitude. That's been a challenge levied to 89 Alpha time and time again.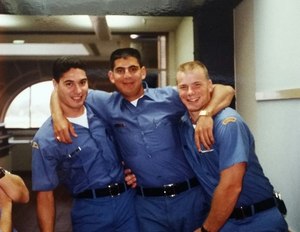 I believe a small part of each of us died with our friends on those fateful days. Those incidents stripped away the callow side of all of us, making us astutely aware of the uncertainties of life. Tragedy brings us together, but the repeated tragedies endured by our class bonded us eternally. It made us the people and officers we are today, and it holds us to the standards and expectations our fallen brothers would have set for themselves and each of us.
As our anniversary date approaches, we celebrate their lives, their commitment to excellence and their sacrifice for the citizens of this city. We honor, remember and pay tribute to our fallen heroes. I wear their badges on my wrist every day. But more importantly, I know I have a responsibility to them too: to live a great story the way they would have. Selfishly, I still feel cheated for their losses, for being deprived of the moments they would have had, and for not having been able to see the contributions they would have made to our department and our community. They were natural integrity-based leaders. They were good men lost too soon. What a missed opportunity that so many of you never had a chance to get to know them.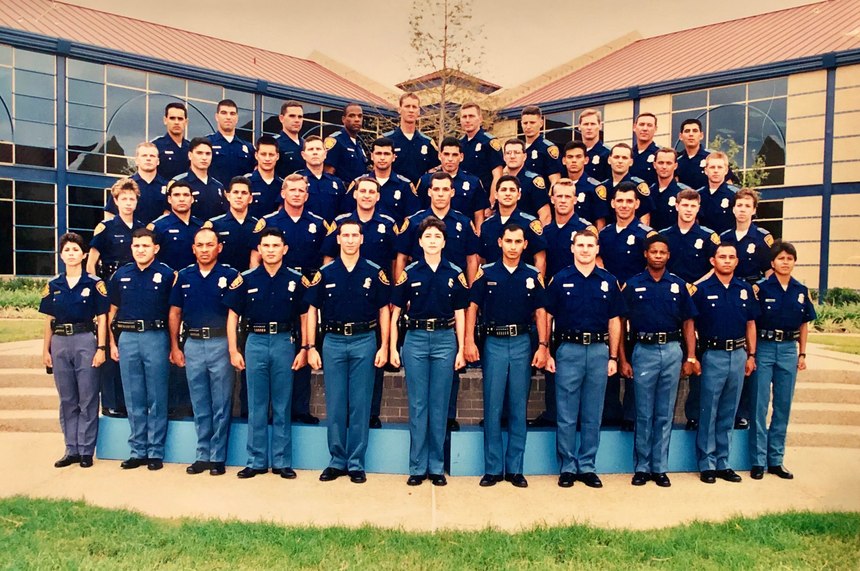 About the author
Captain David Scepanski has served the San Antonio Police Department for three decades.