Anonymous donation from homeless for fallen Ind. officer leads to push for community support
"There have been many valuable gifts given in honor of Seara. However, none, and I mean none, are more valuable than this," said Lieutenant Donnie Benedict
---
By Ashley Silver
RICHMOND, Ind. — The immeasurable impact one fallen officer in Richmond had on the community was so extensive it's still resonating in the hearts of those she served, with members of society's most vulnerable population showing up to donate all they could in her honor.
According to WRTV News, an unknown individual walked into the Richmond Police Department and provided a white envelope with the words "People from the Street" written on top. Officers opened the envelope and discovered eight $1 bills donated by members of the homeless community in memory of fallen Richmond police officer, Seara Burton. Officer Burton was shot during a traffic stop last August.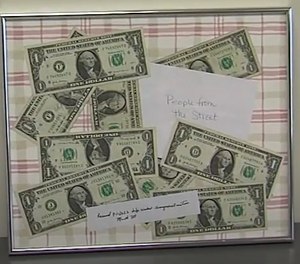 "There have been many valuable gifts given in honor of Seara. However, none, and I mean none, are more valuable than the gift of 8 $1 bills in a dirty white envelope," Richmond Police Lieutenant Donnie Benedict told WRTV.
The generosity of the homeless population encouraged one local citizen named Amber Conley to make a plea on Facebook to her community asking for donations to support the individuals who unselfishly gave their last to honor the officer.
"Ask and you shall receive; we've got more donations in the last 12 hours than we have in the entire 3 days. It's been insane," Conley told WRTV. "It just touched me, so I got on Facebook and asked if anyone knew who they were or where they were."
Instead of adding the $8 donation to the officer's fund, the Richmond Police Department decided to frame the $1 bills so that each person who walks into the department can witness the impact the fallen officer continues to make in her community.
RELATED: Ind. officer who was shot in the head during traffic stop has died