Former security guard Richard Jewell memorialized a hero
"It takes a special person to go through what he went through and still love law enforcement."
By HARRY R. WEBER
The Associated Press
ATLANTA, Ga. — Each anniversary of the 1996 Olympic bombing, Richard Jewell would slip away, usually at night when no one was looking, to place a rose and a card where spectator Alice Hawthorne was killed.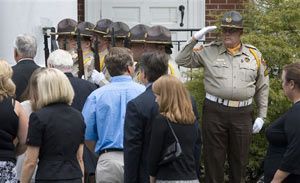 Meriwether County, Ga. Sheriff's investigator Scott Savage, right, salutes as people enter a memorial service for former security guard Richard Jewell on Friday. He was 44. (AP Photo/John Amis)
The former security guard, wrongly linked to the blast, saved hundreds of other people by ushering them away before the explosion. But he wished he could have helped the person he couldn't get to in time, his longtime attorney told mourners at Jewell's funeral service Friday.
"Richard rarely told people about what he did that night," attorney Lin Wood told about 300 people gathered at Brookhaven Baptist Church. "Richard thought it was all in a day's work."
Likewise, Jewell told few people about the annual visit to Centennial Olympic Park to remember Hawthorne and the 111 people injured by the explosion, Wood said.
"For years, I looked forward to the day when I would stand before a jury and talk about my friend and client Richard Jewell," Wood said. "Never did I think I would talk about him at a memorial service."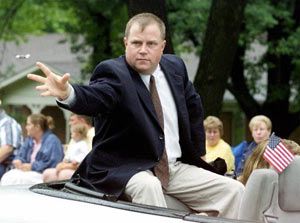 Richard Jewell, parade grand marshal, tosses candy to spectators along the parade route in Carmel, Ind., Wednesday, July 4, 2001. Jewell, who was the focus of an FBI investigation for the 1996 Olympic Park bombing, was being honored as one of the nation's unsung heroes. (AP Photo/John Harrell)
Jewell, 44, died of heart disease Wednesday at his home in west Georgia.
He was initially hailed as a hero after the July 27, 1996, bombing for spotting a suspicious backpack and moving people out of harm's way just before the explosion.
But three days later, a report in The Atlanta Journal-Constitution described him as "the focus" of the investigation. Other media, to varying degrees, also linked Jewell to the probe.
He was questioned but never arrested or charged, and the bomber turned out to be anti-government extremist Eric Rudolph.
Jewell sued several media organizations and settled for undisclosed amounts.
A suit he filed against the Journal-Constitution is set for trial in January, and Wood has said he will pursue the suit on behalf of Jewell's estate. The newspaper has stood by its coverage.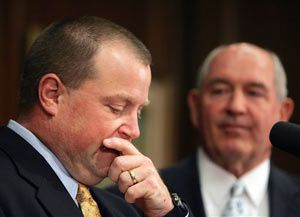 Richard Jewell reads a statement as Georgia Gov. Sonny Perdue looks on Tuesday, Aug. 1, 2006 at the Capitol in Atlanta. Perdue honored Jewell with a belated commendation for his services to the state of Georgia during the 1996 Olympic games. (AP Photo/John Bazemore)
A 1997 Life magazine article on Jewell's plight with the media greeted mourners in front of the church pews Friday. Beside the article were pictures of him in happier times, in his police uniform, at a sporting event, with his wife of six years, Dana.
Since the Olympics, Jewell worked in various law enforcement jobs, including as a police officer in Pendergrass, Ga., where his partner was fatally shot in 2004 during the pursuit of a suspect.
The Rev. Jonathan Porter, chaplain of the Meriwether County Sheriff's Office, where Jewell was working as a deputy before he fell ill from diabetes and kidney problems this year, said all Jewell ever wanted to be was a police officer.
A large contingent of sheriff's deputies and police officers from several Georgia communities attended the service.
"It takes a special person to go through what he went through and still love law enforcement," Porter said.


Copyright © 2007 The Associated Press. All rights reserved.