How these cops are helping veterans get benefits, housing and off the streets
Two Marines continue to fight for their fellow veterans by striving to end homelessness in Broward County, Fla.
---
Reprinted with permission from The Fatherhood Channel
By The Fatherhood Channel
A run-in with a local cop may be a homeless veteran's best hope for a better future if police follow the example of one Broward County, Florida officer. Cops are helping homeless veterans get benefits, housing and off the streets. For veterans who are homeless and among the nearly 50 percent who aren't currently enrolled in VA services, that can be the beginning of a better life.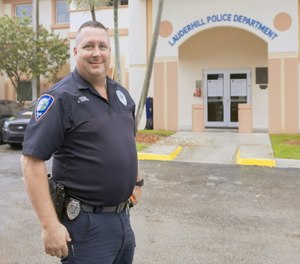 Alex Sangster was found living under a bridge barely hanging on to life. Wilburt Thompson had been released onto the streets after a 15-year prison sentence with nowhere to go and no support for reentering society. James LoBello was running out of money and facing eviction. In addition to being recently homeless, these men have something else in common: they are all veterans who crossed paths with cops helping veterans. In their case, Police Officer Shawn Keechle.
In 2011, the U.S. Department of Veteran Affairs (VA) launched an investment known as SSVF – Supportive Services for Veteran Families – which helped reduce veteran homelessness by 50% across the country. The SSVF network includes over 300 partnerships and programs nationwide, all of which help our most vulnerable veterans get the help, services and benefits they've earned. In Florida alone, VA invested nearly $28 million last year in public-private partnerships to ensure that veterans such as Alex, Wilburt and James have every opportunity to safe and stable housing.
Unfortunately, despite the dramatic reductions of homeless veterans during the last 10 years, Florida has continued to rank as the highest rate of homeless veterans in the country second only to California. During the COVID-19 pandemic thousands of Florida veterans have experienced homelessness. The stories of Alex, Wilburt and James, three homeless veterans facing COVID-19, demonstrate the importance of relationships between SSVF programs such as Operation Sacred Trust (OST) and local leaders like City of Lauderhill Police Officer Keechle.
Officer Keechle is his police department's Homeless Resource Officer and a leader in efforts to end homelessness in Broward County, one of the state's largest urban areas. He is also a Marine Corps Veteran.
After finding Alex in medical distress under the bridge and helping him receive the immediate medical attention needed, Officer Keechle contacted Operation Sacred Trust for support. Together, they helped Alex get into emergency housing, receive further medical assistance, ensure he had food every day, and pursue the Social Security and VA benefits that would help him live independently. Today, Alex lives in his own apartment.
Officer Keechle met Wilburt at a local feeding center and learned that he was not aware of VA benefits that he had earned through his service in Vietnam. With the help of Operation Sacred Trust, Wilburt was immediately placed in emergency housing with daily meals. A team of OST care managers worked with Wilburt to get benefits he needed to live independently. Although Wilburt was able to sign a lease, move into his own apartment, and reconnect with family he hadn't seen in more than 15 years, tragically he died of cancer at the end of June.
As the pandemic bore down on South Florida, James was at the end of almost two years of physical rehabilitation and just beginning to walk again. His credit cards were maxed out, he didn't know how he'd pay for food, and he got hit with an eviction notice with no means to fight it. Officer Keechle's call to Operation Sacred Trust got James immediately placed in emergency housing, legal assistance, and, ultimately, a new place to live.
Last year, Operation Sacred Trust served more than 1,800 local veterans and family members in Broward and Miami-Dade counties: a record for the agency that typically serves half that number each year since opening its doors in 2011.
Officer Keechle says his partnership with Operation Sacred Trust is "priceless." Without it, there are many veterans he wouldn't have been able to help.
Like Keechle, Dr. Juan Flores is also a Marine Corps veteran. Flores is Operation Sacred Trust's Engagement Director. His team of mostly former servicemen and women is responsible for making sure every veteran's call for help is answered 24 hours a day, seven days a week, no matter the circumstances.
These types of public-private partnerships funded by the VA but implemented by local advocates are demonstrating they have what it takes to ensure collaborative care that leaves veterans better able to get their benefits and live independently.
"Every veteran we serve is our neighbor," Dr. Flores says. "We do everything we can to make sure each of our neighbors who served gets the same chance at life, liberty and the pursuit of happiness they fought to give the rest of us."
NEXT: The top 10 reasons to start a police homeless outreach team (and how)