How to donate to the families of the fallen Lakewood, Wash. police officers
---
The Lakewood Police Independent Guild (LPIG) Charitable Fund, an all-volunteer, non-profit charitable organization comprised of Lakewood Police Officers and members of the Lakewood community, late last night provided information on its Web site about the ways in which you can contribute to the families of the four officers slain as they prepared for their Sunday morning shift.
Officer Ronald Owens, 37, who was divorced, is survived by his daughter.
Officer Tina Griswold, 40, is survived by her husband, a daughter, 21, and an 8-year-old son.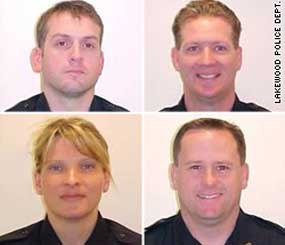 Officer Gregory Richards, 42, is survived by his wife, Kelly, a daughter, and two sons.
Sgt. Mark Renninger, 39, is survived by his wife and three children.
LPIG President Brian D. Wurts wrote, "As I write this I am numb. We were dealt a nasty blow, good men and women I have had the honor of knowing for years are senselessly gone. There is no way to comprehend it, to validate it, or to make sense of any of it. You cannot understand evil like this, as a community we must form a solid bond against criminals and hold them accountable. I know my members and can say with certainty that as a group we will remain professional and will continue to work to protect those of you we have taken an oath to protect...Please pray for these officers and their families. All of them had significant others and children who are left behind along with countless family members. As a Guild we will do anything we can. If you wish to donate to the families our Guild has an account for this purpose. Every penny will go to the families; if you want to donate to a specific officer you can write his or her name in the memo section. If the check is made out to LPIG at PO Box 99579 Lakewood, WA 98499, I will personally make sure it goes where it is intended."
Click here for more information.