LAPD reserve officer saves veteran's life after suicide attempt
Dr. Paul Strauss used both his police and medical training to assist an unresponsive veteran during a call
---
By Amanda Lien
LOS ANGELES — At the Los Angeles Police Department Southwest station, he's known as "Doc," a volunteer reserve officer. At Cedars-Sinai, he is Paul Strauss, MD, an anesthesiologist at Cedars-Sinai since 1999.
Either way, Strauss is a lifesaver. In January, he was among the officers dispatched after getting a call about a military veteran about to kill herself.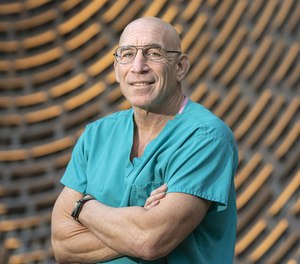 When Strauss arrived on the scene, she was unresponsive and not breathing. Strauss told KCAL he acted immediately.
"As a physician of many years, I just did what I was trained to do by both LAPD and my medical experience," Strauss said. "I assisted her breathing while the Los Angeles Fire Department was called, who arrived several minutes later."
For Strauss, it was one of his most dramatic days in law enforcement since he began working as a LAPD reserve officer two years ago. But, he said, it's also exactly why he wanted to earn a badge in the first place.
"I can bring my life experience and skills in the medical world to the citizens of Los Angeles," Strauss said., according to a press release. "That's what life's about. It's not so much about money. It's about helping people. I know it sounds corny, but it's true."
Strauss was the second oldest in his class when he went through the rigors of police academy training to become a Level I reserve officer, which enables him to serve as a street officer.
Strauss puts in about 20 hours a week as a reserve officer. Sgt. Gil Pedregon, one of Strauss' supervisors at the Southwest station, said regular patrol officers typically don't have much interaction with reserve officers. Strauss is a welcome exception.
"He's always willing to help out," Pedregon said. "We're very thankful that he takes the time to come to our station and not just work at the desk or do paperwork. He actually suits up, puts a vest on, full gear, and he goes out in the field and works."
Strauss had considered becoming a reserve officer for years, but held off for most of his life because he didn't want to take time away from his medical career. After the San Bernardino terrorist shooting in December 2015, he decided he didn't want to sit on the sidelines next time.
"When San Bernardino happened, it just hit close to home that an event like this can and probably will happen again in Los Angeles, and I want to be part of the response and help people survive that," he said. "My dream is to share my first-aid skills with every street cop in Los Angeles."
Strauss said one of his goals is to teach better "real-world" first-aid skills to his fellow officers. He said there's a parallel between the work he does in medicine and with the LAPD.
"Things are happening fast, and you have a very big impact on keeping somebody alive," he said.
Dr. James D. Grant, chair of the Department of Anesthesiology at Cedars-Sinai, said the similarities between what Strauss does as an anesthesiologist and an officer are why he is so valuable to both fields.
"Anesthesiology involves a lot of split-second, lifesaving decisions. If you look at the work (Strauss) is doing (for the LAPD), it's sort of a lot of the same things," Grant said. "We resuscitate. We have to change course quickly. We have to be two steps ahead. In my short time here, I've been continually impressed with (Strauss's) commitment to working with the LAPD."
The LA Police Reserve Foundation praised Strauss, saying his actions highlight the value of the reserve program and the specialized expertise the program brings to the community.
"It highlights that as first responders, police officers, more often than they realize, are first on scene by several minutes to medical emergencies," the LA Police Reserve Foundation said in the press release. "By acting swiftly, we make a difference and save lives."
For more information on the LAPD Police Reserve Officer Program, visit https://laprf.org/become-a-reserve/.