Law enforcement from around country pay respects at Fla. trooper's funeral
Master Trooper Joseph Bullock helped train most troopers in his area and was remembered for his mentorship and friendship
---
Jessica De Leon
Bradenton Herald
BRADENTON, Fla. — Law enforcement from around the state and country, family and friends gathered Thursday morning to pay their final respects to Florida Highway Patrol Master Trooper Joseph Bullock who was killed in the line of duty last week.
Bullock, 42, was shot and killed by a stranded motorist on Interstate 95 in Martin County on Feb. 5 when he pulled over and tried to help the man. Bullock's suspected killer was then shot and killed by a Riviera Beach police officer who happened to be driving by.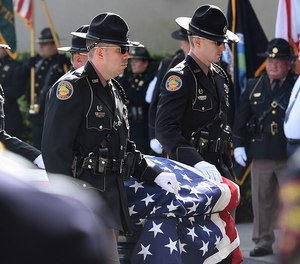 One of Bullock's former partners, Lt. Derrick Rahming, shared a few memories of his friend with the members of media outside of Bayside Community Church after the arrival of the funeral procession and before the service began.
"When I worked with Joe on the Treasure Coast, it was an overwhelming experience to know Joe," Rahming said. "Joe was one of those people that when you met him , you instantly loved Joe."
Bullock would always go with others when they responded to calls, his friend said.
"Joe didn't let you go by yourself. Joe would not let you go without him until he was comfortable knowing that you are able to handle that call."
During his 19-year with the agency, Bullock helped train most of the troopers in the area, according to Rahming.
"The Treasure Coast is a better place because of Joe," he said. "Joe was a leader. Joe was a friend. When Joe talked, it meant something."
Born on Sept. 21, 1977, in Warren, Penn., Bullock was raised in Englewood. He was known to frequently visit Englewood stay with his family.
Bulllock is survivied by his parents, Jon and Val, two sisters, Jessica and Katie, nieces Mackenzie and Madison, and nephew Brendan.
After the funeral service, Bullock, an Air Force veteran, was laid to rest at Sarasota National Cemetery.
McClatchy-Tribune News Service