Off-duty cop saves 4-year-old from drowning
The mother says her daughter would have surely drowned if not for the officer's quick actions
---
By Suzie Ziegler 
ROCKLAND COUNTY, N.Y. —  A mother's worst nightmare almost became reality earlier this week when her 4-year-old daughter suddenly found herself in over her head. Luckily, an off-duty police officer was nearby. 
Now, a mother in Rockland County, New York, is thanking Clarkstown police officer for saving her daughter from a possible drowning.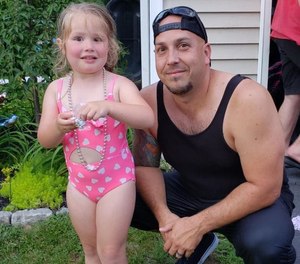 Carly Shaffer and Officer Paul Munding were both at a neighborhood pool party when Ella, briefly left unattended on the pool's shallow stairs, cried out. 
"My heart was in my stomach as I was running to her, watching her bob up and down in the water, choking," Shaffer wrote in a Facebook post. But Munding got there first. 
Schaffer describes how he dove straight into the pool, still wearing his shoes, and pulled Ella to safety. 
"[He did it] for a kid he didn't even know. A kid he's not related to. A kid he's never met. He saved my kids life. And I have no idea how to ever thank this man," she wrote. "She was taking in water and surely would have drowned." 
Schaffer detailed the events in her Facebook post, calling Officer Munding a hero, to share her appreciation. 
The Clarkstown Police Department later shared her post, congratulating Munding on a job well done.