Police video from Calif. wildfires shows harrowing escapes
The videos show officers running door-to-door urging people to flee and rescuing elderly residents of a retirement community as flames bear down
---
Associated Press
SANTA ROSA, Calif. — Chaotic police body-camera footage from last year's deadly wildfires in Northern California's wine country shows officers running door-to-door urging people to flee and rescuing elderly residents of a retirement community as flames bear down, according to a newspaper report Sunday.
Nearly eight hours of jittery video obtained by the San Jose Mercury News is from the point-of-view of police in Santa Rosa, as they sprint, panting through swirling smoke amid last October's firestorm.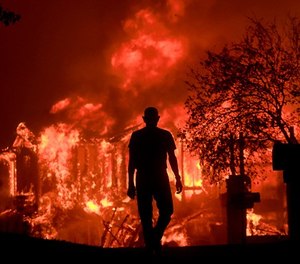 The Mercury News reviewed the videos with police, who said they would use them as lessons to improve responses on future fires and plan better evacuation protocols.
The footage shows at times exasperated officers imploring homeowners wielding garden hoses to evacuate. One officer, using profanity, shouts at a man shooting video with his cellphone as the blaze closes in: "The fire is coming right here. Evacuate! What is wrong with you?"
Officers also tried to lend comfort in the chaos.
"Sir, I'm scared," an elderly widow tells Officer Dave Pedersen in one video.
"I know," Pedersen responds. "This is absolutely terrifying."
At a luxury retirement community on a hilltop in the Fountain Grove neighborhood, about a quarter of the 416 residents were still in their rooms or asleep — with two buildings catching fire and no staff in sight — when police arrived to rescue them.
In one video, Officer Orlando Macias guides an elderly woman in a bathrobe onto an evacuation bus, telling her "Grab onto my shoulders, like we're dancing, OK?"
Without knowing it at the time, exhausted police captured the horror and heroism of one of California's deadliest wildfires from the tiny cameras clipped to their chests, the newspaper said.
In nearly every frame, embers blow sideways through the glowing orange sky. The cameras' microphones recorded the constantly blowing wind that propelled the flames while drowning out sirens and screams.
The wind-driven blaze moved 12 miles (19 kilometers) in about four hours — from Calistoga into the heart of Santa Rosa. Forty-four people died.
The body cam footage, along with hundreds of pages of police reports and 911 calls indicate that dozens of residents refused to leave the path of the massive fires that night.
One of them was Ken Mazzoni, 64, who is on video defiantly telling an officer he planned to stay and try and fight the flames with a garden hose.
"Sir, you're gonna put a lot of people in danger," says Officer Chris Diaz.
They inform dispatchers that Mazzoni and his wife won't budge, then head off to the next rescue. But 20 minutes later, as a wall of flames approach down the block, Diaz returns to check on the couple. They're getting into their car to leave.
Last weekend, the Mazzonis returned to the vacant lot where they plan to rebuild a house identical to the one they lost. Diaz came, too. It had been seven months since they had seen each other. They hugged and cried and Mazzoni apologized to the police officer for ignoring his pleas to evacuate.
"I don't know what I was thinking," Mazzoni told the newspaper.