Racer by day, cop by night: An officer's journey from homelessness to pursuing her dreams
Tuscaloosa Police Sgt. Ritamarie Thomason's path to success was spurred by the 9/11 attacks, which is when she vowed to make a change in her life to become one of the helpers
---
The events of September 11, 2001 changed the world. Many can recall exactly where they were and what they were doing on that fateful day.
A little over 4,300 miles from New York City, Ritamarie Thomason was living at a homeless shelter in Alaska. She had just turned 18 and was awoken suddenly by someone in the shelter shouting, "Hey, Rita! Pack your shit!"
The homeless shelter had been evacuated – she later found out why.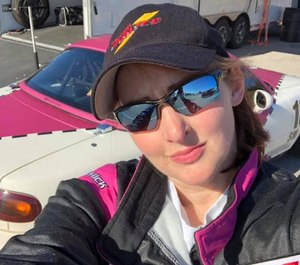 She walked over to a nearby theater in Anchorage, which was often filled with boisterous tourists during the day. Someone pulled out a break room TV and set it on the counter. Once it was turned on, there was silence – until a group of tourists began to continuously ask, "What's going on?"
It was then that Thomason, and the rest of the crowd gathered inside the theater, saw the grim sight: the World Trade Center had been attacked.
"The Twin Towers just got hit by an airliner!" someone screamed.
Like millions of others around the world, Thomason was stunned. However, her immediate reaction wasn't like the others she was surrounded by in the room. Instead of becoming frozen in a state of hysteria, Thomason began counting how much money she had saved up in her head.
She wanted to become one of the helpers.
She didn't know how she was going to get there with the little amount of money she had, and quickly realized she didn't have any valuable skills to offer. She felt like she would be in the way – that she would just be standing around doing nothing.
Right then and there, she vowed to herself that she would make a change in her life so that she never felt that way again.
A rocky childhood
Thomason was originally from Pawtucket, Rhode Island, but grew up in Alaska. Her family – which included her mother, father and sister, who is only 18 months younger than Thomason – moved about every six months.
It was a rocky childhood.
"They just did not like to settle for long," she said. "My dad had some struggles with alcoholism and gambling, and my mom struggled with mental illness. They were always convinced that the next place would be where all their problems would be fixed."
She was 11 when her family moved to Alaska, which is when they got their first car. "It was a 1983 Subaru. We used it to drive to Alaska," she said. "But Alaska is an expensive state, and we were very, very broke."
Later, when her parents got divorced, Thomason said they ended up living in a shack on a nine-hole golf course – five miles from town with no running water.
At 16, Thomason's mother kicked her out after she remarried. "I didn't really fit into her perfect family idea," she said.
It was then that she started living in a homeless shelter. "The first few days at the homeless shelter were the saddest days of my life," she recalled. "I remember sitting there crying, thinking, 'Well, my life is over. I have a GED, but I don't have any real skills. I got a couple hundred bucks and that's it.'"
After drying her tears, Thomason started looking around at the shelter and realized she had a choice: she could either sit there and do nothing or she could be resilient.
She chose the latter, and one step at a time, slowly worked her way toward the life she wanted.
Becoming one of the helpers
With her last remaining funds, Thomason bought a bicycle to get to her part-time job at a theater in Anchorage.
After 9/11, she became a nursing assistant and later a medical assistant. Soon after, she became an EMT and then a paramedic. She completed most of this training in Alaska, but eventually moved to Alabama for the second half of paramedic school. She was employed as a paramedic with Northstar EMS for five years.
In 2011, Thomason became a police officer with the Tuscaloosa Police Department. For three years, she was a burglary investigator but quickly realized she wanted to be a sergeant.
"I went ahead and took the test, and then went from my awesome day-shift, weekends-off, holidays-off position to the midnights," she joked.
Thomason, whose schedule will change to evenings soon, says she's looking forward to the switch to not only get some rest at night – but to also spend quality time with her husband.
"We got married in April 2016 – on April Fools' Day," Thomason said. "We didn't tell anyone; we eloped to New Orleans and then I posted a photo saying, 'Happy April Fools' Day! We got married!' And nobody believed us."
Thomason met her husband, who's an audio-visual programmer, on eHarmony.
"I've been married three times," she said. "My first husband was abusive; he wouldn't let me learn how to drive."
Thomason, now 37, was 23 years old when she finally learned how to drive, which is ironic given her greatest passion – besides policing – is racing.
Life in the fast lane
Itching for a thrill while on a drive with her dad one day, Thomason remembers asking him to floor their '83 Subaru. "Turns out, an '83 Subaru will only do about 70 mph before it threatens to shake apart," she laughed. "But I vividly remember that day and thinking, 'Man, this is so fun.' It just stayed with me until I got my first car."
After she divorced her first husband, Thomason bought her first car – a 1992 Mazda Miata.
"It was a manual and I didn't know how to drive it. My boyfriend at the time was like, 'You can't learn how to drive a manual!' And, of course, that's all it took for me to go find someone to pick up the car for me and learn how to drive it."
Thomason often daydreamed about racing. "I've always wanted to get involved in motor sports. I started to do some research and thought, 'Oh, autocross would be so fun.' But I didn't want to wreck the daily driver."
She didn't have the resources or finances to jumpstart her dreams until she met her now-husband. "I actually convinced him to let me buy another Miata. I bought a 1996 Miata at the dealership that I overpaid for and took it to my first autocross event. I didn't know anyone there, and it was super intimidating, but that was it."
She ended up stripping the interior of the Miata in her garage – with absolutely no experience. "I just muddled my way through it. With help from friends, I wound up building a race car in my garage."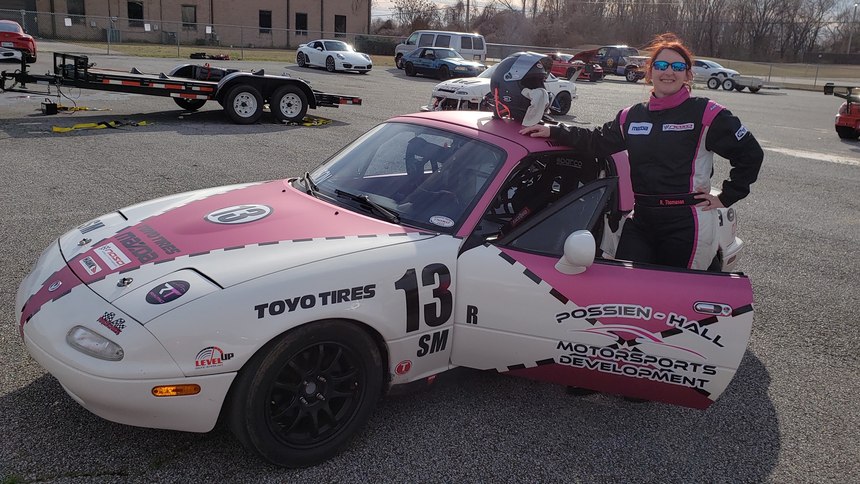 Thomason's first race was in November 2019, where she won her class. "It was a good start, and I raced all through 2020, even despite the pandemic."
But, on a police sergeant's salary, racing – even amateur racing – is not cheap.
"Toward the end of 2020, a friend told me about ARCA, which is like the lower NASCAR series and it's not horrifically expensive," Thomason said. "He put a fire in me. I started researching it and found a team that's willing to let me drive. I just have to come up with $25,000."
The first race, she said, is the most expensive since they don't know the extent of her driving skills. "If I do decently, then they will want me to be there, not just for my money, or lack thereof, really," Thomason said.
Currently, Thomason is trying to find sponsorships and raise money to make her dreams a reality. However, she's also focused on honoring and supporting fallen members of her thin blue line family.
Operation Honoring the Fallen
Thomason's goal, she said, is to run the name of a fallen police officer on the side of her car in each race she runs.
"Hopefully, I'll be able to raise enough money to cover expenses and be able to give money back to the family," she said.
Eventually, Thomason says she would like to be in a good financial place to be able to pay for fallen officers' families to be present for the race – including covering their hotel fees.
"This is literally my life, and I don't want anyone to forget them," she said.
The gesture, she hopes, will show families that their fallen officer is still remembered, cared about and will never be forgotten.
Creating and accomplishing this goal, she said, will allow her to make an ARCA start in 2021.
"I've never really had a lot of people in my life telling me that I could accomplish what I wanted to," Thomason said. "There have been a few times I've laid awake at night thinking, 'This is a lot of work. Can I really do it?'"
Her stubbornness, she says, gets her out of that dark pit.
"I really hope that young women and men can look at this and think, 'Wow. This person didn't have a lot of advantages and they still became a productive member of society and followed through on their dreams.' You don't have to start from wealth to be able to do what you want to do in life."
Reaching her dreams, Thomason says, sometimes means working 80 hours a week trying to pay for her race car.
"You have to really, really want it, but you also have to be realistic. I know Kyle Busch isn't going to be knocking down my door offering me a full-time trucks contract, but I do know that if I work really hard, then I can probably race an ARCA and maybe some of the lower NASCAR series."
Regardless of where Thomason's dreams end up taking her, one thing is for certain: she never remained complacent and continues to be resilient – despite the struggles and bumps in the road along the way.
Follow Thomason's journey on Facebook.