'Selfless love and sacrifice': Mich. officers come through in big way for kids who lost just about everything
Two young girls lost all of their personal belongings; Det. Bragole reached out to her colleagues and the response to donate items was overwhelming
---
By Aileen Wingblad
The Oakland Press, Sterling Heights, Mich.
FARMINGTON HILLS, Mich. — A few weeks ago, Wes Brockbank got some unsettling news from Farmington Hills police.
Detective Jessika Bragole told him they were looking for his ex-wife and mother of his two young girls for alleged child abuse. An arrest warrant had been issued for his ex, she'd been evicted from her apartment in Farmington Hills — his kids' home, too, until recently — and all his daughters' belongings had been set out at the curb and were gone.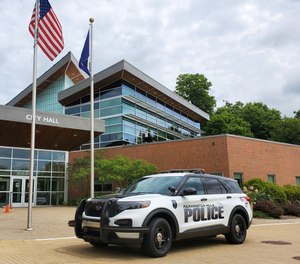 Everything — clothes, toys, shoes, books and anything else the two youngsters had left at the apartment when they came to live with their dad full-time — was lost forever.
Brockbank said that for weeks his ex kept telling him she'd bring the children's stuff to his place in Milford, and he had counted on that. But now, police were looking for her, and none of his kids' stuff was around anymore.
The little girls, 10-year-old Victoria and 7-year-old Eva, overheard the conversation with the detective — and their reaction was heartbreaking, Brockbank said.
"They just started bawling," Brockbank said. "It was not just about losing the stuff, it was because they felt their mom had forsaken and abandoned them."
Bragole said she could hear the girls crying and understood how upset they were — and knew she had to do something about it.
"They'd been through a tragic, traumatic event," Bragole said. "No kid should have to go through that."
So first, Bragole invited Victoria, Eva and their dad to the Farmington Hills police station, where they were treated to a tour, spent some fun time with the K-9, and the girls got to run the siren and received gift bags with Barbie dolls, coloring books, bracelets and other goodies.
"They had a great time. The officers fell in love with them," Brockbank said.
And, as it turned out, that was just the start.
'Happy to make a difference'
"I was thinking there has to be more that we can do for this family," Bragole said. "So I sent an email to the entire police department, telling everyone what was going on (with the Brockbanks) and asked if there was anything anyone could spare."
Bragole said the response was "overwhelming."
"The amount that was donated was insane — clothes, toys, shoes, stuffed animals — anything little girls would love," she said. Cash donations were used to buy gift cards, and a detective's mother even knitted blankets for the girls, personalized with their favorite animals.
About a week ago, Bragole and two others from the police department loaded everything onto a truck, filling its bed and entire back seat. They then drove it all to Brockback's home, surprising him and his two young daughters.
"It was crazy — the girls were ecstatic. And we were so happy we could do something for them, to make a difference for them," Bragole said.
Brockbank said it was "absolutely incredible and touching."
"And it showed my daughters that people beyond me support them," he added. "The way they lit up when they saw the detectives and all this stuff, I can't even describe their happiness. It was Christmas times 100."
Brockbank said his girls have been "absolute angels" despite everything they've gone through and are adjusting to their new life with him having full-time physical custody. He recently quit his job to focus on his daughters, providing the stability they need, he said.
As a veteran of the United States Army and the United States Marine Corps with five tours in the Middle East, Brockbank is on military disability for a combat-related injury. He said he's always had a strong respect for members of law enforcement, and is sharing his story "with anyone who will listen."
"This was such an outpouring of selfless love and sacrifice, so humbling and touching," Brockbank said. "I just want people to understand just how much police officers do for our community."
Service to the community
Farmington Hills Police Chief Jeff King said what his department did for the Brockbank girls is an example of what they do on a daily basis — service to the community in a variety of ways. And while he shies away from self-promotion, King said his department looks for opportunities to assist those needing a helping hand.
"This is something we are blessed to do in Farmington HIlls. We're thankful for our jobs, the resources, and this is an extension of how we serve the community," King said. "We saw an opportunity with this family — this father and two daughters needed support and assistance.
"But this is not about us, it's about them. It comes with the job," he said. "We didn't do this for publicity. We did it because it's the right thing to do."
Recalling the big smiles on the Brockbank girls' faces when they were presented with all the donations, Bragole said it was awesome to be a part of it and she was thrilled with the level of generosity shown by her colleagues.
"Making a difference in someone's life gives a sense of fulfillment. It's nice to have a positive impact," Bragole said. "And we want our citizens to know we're here for them in every aspect. We truly care."
___
(c)2023 The Oakland Press, Sterling Heights, Mich.
Visit The Oakland Press, Sterling Heights, Mich. at https://www.theoaklandpress.com/
Distributed by Tribune Content Agency, LLC.
McClatchy-Tribune News Service