Va. police unveil new mural honoring LEOs
The 14-foot-tall mural, which bears images of a lion, a badge and the Thin Blue Line flag, was commissioned to honor police work and boost morale
---
Stacy Parker
The Virginian-Pilot
VIRGINIA BEACH, Virginia — A majestic golden lion, backed by a solemn flag and a shiny silver officer's badge, watches over the Oceanfront police precinct's back parking lot.
The new 14-foot-tall mural is the latest to join the artistic buildings in the ViBe Creative District.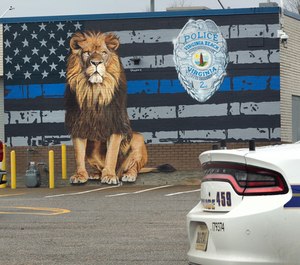 Second Precinct Capt. Shannon Wichtendahl, a 32-year veteran of the city's police department, said she commissioned it to honor police work and boost morale.
Recruiting is at an all-time low, she said.
"I wanted to have something that the officers could look at, and it would make them proud of their profession," she said. "We're at an interesting time in policing, a time when it feels like we're not appreciated."
Wichtendahl asked officers for input on what they wanted to see when they walk from their cars and into the building. She shared those ideas with Todd and Eric Lindbergh of Talent Murals who came up with the final design.
The Lindbergh brothers have painted tributes to police, military and firefighters in Virginia Beach before, many on the walls of area businesses including a Navy ship send-off on AJ Gators Sports Bar & Grill on Holland Road.
At the Second Precinct, their painted lion looks as if it's really sitting in the parking lot. The animal represents strength and courage, and is a nod to the National Law Enforcement Officers Memorial in Washington, D.C., where bronze lion statues guard the etched names of fallen police officers, said Wichtendahl.
Behind the lion, there's an unfurled black American flag with a blue stripe. It has become a common symbol for the "blue lives matter" movement which wants those convicted of killing law enforcement officers to be charged with a hate crime. The movement arose in response to protests of officer-involved fatal shootings of black men and women.
Wichtendahl said the flag's inclusion in the mural symbolizes the "thin blue line" to describe the role of police officers being the barrier between "the innocent and those intent on doing harm."
The top of the mural features a silver police officer's badge, versus the gold badge worn by a sergeant, lieutenant or captain. To wear the badge is to know the public has entrusted them to do their jobs, "and we should do it and do it right" she said.
The mural is inside the precinct's fenced back parking lot on 18th Street. The public can view it up close and take photographs only after entering the building's main entrance on Virginia Beach Boulevard, Wichtendahl said.
In April, an influx of officers from around the region will be based out of the station for the Something in the Water festival.
"This is perfect timing," she said of the artwork. "We're proud of the job we do."
McClatchy-Tribune News Service