Video: LEO who lost legs in crash walks at daughter's graduation
A LEO made sure he fulfilled his promise to his daughter nearly a year after losing his legs in a motorcycle crash
---
By Police1 Staff
MIAMI — A police officer made sure he fulfilled his promise to his daughter nearly a year after losing his legs in a motorcycle crash.
On May 7, 2017, Miami-Dade police Maj. Ricky Carter was injured after crashing into a guardrail on a highway, NBC Miami reported. The crash resulted in him losing both of his legs.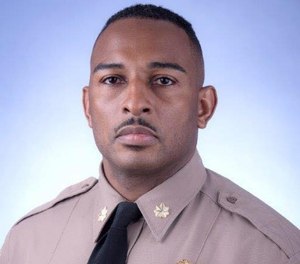 "I can recall waking up in a hospital bed and seeing broken arms, so I'm trying to move my legs under the covers and my legs aren't cooperating with the moves I'm trying to make. So, I lift off the covers and see that I don't have any legs," Carter recalled.
Carter said he doesn't remember why he lost control of his vehicle, according to WPLG. He was also left with broken arms, broken hands and a collapsed lung.
Since the crash, Carter has spent hours almost everyday of the week at physical therapy. He has spent months learning how to walk again with prosthetic legs in time for his daughter's graduation.
Carter, a 23-year police veteran, admitted the process has been difficult for him, but he said he hung a sign on his wall as a daily reminder of his goal.
"I wrote that when I clearly defined what my goals are. I wrote that and I put it there so I can look at it every day," Carter said.
On Thursday, Carter achieved his goal and walked during his daughter's college graduation with his brand new prosthetic legs. Jennifer, who graduated from the University of South Florida, said it was inspiring to see her father take those steps.
"Just a year ago, I didn't think he would be here," she said. "To see him stand again felt like old times. It was the best feeling ever."
Carter said his daughter has been his motivation and "propelled me to get what I achieved today." He added that walking at the graduation is just the beginning. He eventually wants to run again.