Video: NJ cops catch 4-year-old thrown from burning building, help save residents
A mother on the second floor was unable to evacuate, leading her to drop her son to police officers below
---
By Suzie Ziegler
SECAUCUS, N.J.  — Half a dozen cops found themselves at the center of a dramatic fire rescue earlier this week when they were called to a smoke-filled apartment building. Several residents were unable to evacuate, leading one mother to toss her 4-year-old son out of their second-story window.
The daring scene was captured on video, showing the boy as he was dropped safely into the arms of a Secaucus police officer. The video, obtained by the department, also shows another officer dropping to his knees and comforting the boy after the frightening ordeal.
A press release from SPD said officers were responding to a fire call Wednesday evening where one officer found a 56-year-old woman lying unconscious in an apartment that was actively on fire. The officer, identified as Police Officer Nicholas Spangenberg, along with Police Officer Jason Mitchell and Detective Aniello Schaffer, carried the woman to safety. The victim was taken to the hospital with second- and third-degree burns, but is in stable condition, according to SPD.
At that time, Detective Matthew Ford and Police Officers Stephen Hurtuk and Matthew Garzone arrived. That's when the mother, a resident on the second floor, told officers she wasn't able to evacuate her smoke-filled apartment. She dropped her son out of the window where he was caught by Ford -- who was working plainclothes -- and Hurtuk and Garzone.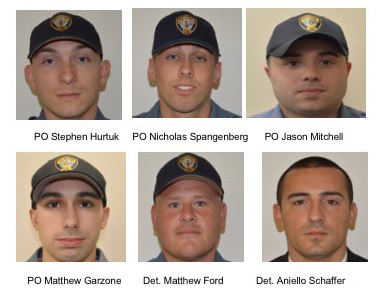 The Secaucus Fire Department safely evacuated the child's mother and several other residents from the building, said SPD. The cause of the fire remains under investigation, but authorities don't believe it's suspicious.
The following video (and press release in the comments) depict true heroism and compassion towards our community. Not only do the officers save a 4 year old child's life in an active house fire, but also caught on camera is the officers trying to comfort him during such a traumatic experience while members of Secaucus Fire are rescuing the rest of this young boy's family from inside the apartment. Also, not captured on video is the rescue of a 56 year old woman by Officer Spangenberg, Officer Mitchell and Detective Schaffer. Officers bravely dragged the woman from her smoke filled doorway to the outdoors where they immediately rendered first aid.

Posted by Secaucus Police Department on Thursday, June 25, 2020