5 ways the GI Bill can help you land a job in law enforcement
Armed with your education benefit, you can help make your application stand out amongst the crowd
---
By Rachel Engel, Police1 Contributor
Thanks to several similarities to the military, including rank structure, firearm use and public service, jobs in law enforcement are highly sought after by military veterans. It's a competitive field, however, and your status as a veteran will only take you so far.
By using the G.I. Bill for extra education training, however, you can help set yourself apart from the thousands of other applicants pursuing a job in law enforcement.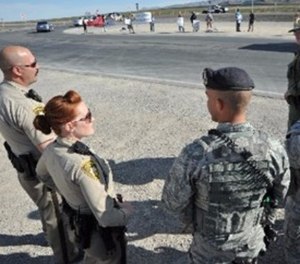 Depending on the type of program you're pursuing and the type of G.I. Bill you're utilizing, you have a number of options that will increase your chances of being selected for employment at a local law enforcement agency.
1. College coursework
Each individual police department has different requirements for new recruits, and while many still only require a high school diploma or G.E.D, more and more are requiring at least one or two years of college courses as a minimum standard.
Military veterans can use their G.I. Bill to complete this requirement, while also receiving a housing allowance and textbook stipend to supplement their income while attending school. Even if coursework isn't required to apply for a job in law enforcement, it will enhance your application.
2. Associate degree
Certain police departments may require applicants to have completed a two-year degree in criminal justice or another field as a minimum standard.
Using the G.I. Bill to complete this requirement will allow you to focus on your studies by utilizing the housing allowance and textbook stipend. For public universities, the Post-9/11 G.I. Bill will provide the full cost of tuition.
3. Bachelor's degree
While not typically required by local municipal and city police departments, a Bachelor's degree is usually required to land federal law enforcement positions. Even if you have no plans to seek out a federal position, a Bachelor's degree in criminal justice or a related field will help your application stand out among the other applicants.
The G.I. Bill provides funds for up to 36 months of college coursework, enough for four, nine-month long school years, as well as the housing allowance and textbook stipend.
And, you never know, somewhere down the line, after being hired, you may find yourself interested in a federal position that requires a degree in criminal justice, or you may come to a point in your career when a degree is needed to reach a higher earning potential.
4. Tutoring help
Those college classes may help you land a job, but only if you complete them, which is easier said than done. For veterans struggling while attending school, the G.I. Bill also offers tutoring sessions that can be used in conjunction with college courses.
To be eligible for tutoring sessions under the G.I. Bill, you must be enrolled at least part-time, and the class must be a part of your approved program. The maximum monthly allowance for tutoring sessions is $100, not to exceed $1,200 for the school year.
5. Foreign language classes
Another not-required-but-highly-valued trait of a law enforcement applicant is the ability to speak more than one language. The increase of large populations of non-English speaking communities in the United States drives the need for bilingual law enforcement officers to bridge language barriers when responding to a call.
Some police departments even offer a pay increase to those employees who can demonstrate fluency in certain languages. Yet, even without the possibility of a pay bump, the skill will set you apart from other applicants.
You can begin taking foreign language classes at your local community college, paid for with your military education benefit.
The G.I. Bill can provide the education and training you need to help land a job in law enforcement. While advanced education won't guarantee you a job, it will set you apart from the other applications in the stack.