How 3 police and military veterans built a career after retirement
Jeff Carlyle, Rick Dunn, and Mark McClure are doing something right in their second careers after retiring from police and military posts — this year their office was the Signal 88 Franchise of the Year
---
Law enforcement officers understand that retirement from the job is likely to happen when you're young enough that your kids are still in college and you're paying off your mortgage. Essentially, you know the pension is not likely to be enough, so a second career is something well worth considering while you're still on the job. 
Another thing cops know is that it is supremely important to know that the people you're working with are true professionals — people you trust and people who know they can trust you. 
Considering those two factors, it's instructive to tell the story of Jeff Carlyle (retired 26-year army officer), Rick Dunn (17 years in law enforcement in South Georgia) and Mark McClure (18 years with the Georgia Bureau of Investigation and four years as an elected county sheriff). The trio took their collective experience in police and military and built a highly successful Signal 88 Security franchise.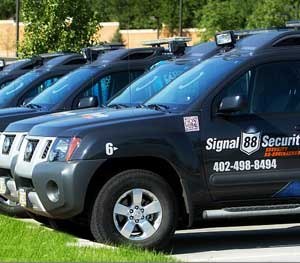 Unique Skills, Shared Experiences
Dunn and McClure met when they were both doing private security in Afghanistan. Both men happened to be from Georgia and they hit it off. When Rick got back stateside, he opened a Signal 88 Security franchise while Mark stayed on in Afghanistan. A year later, Mark came back and the two men became business partners. 
Meanwhile, Carlyle had also opened a Signal 88 franchise in South Atlanta — once the threemet each other, they decided that merging their backgrounds and talents would make a stronger business.
"We all agree that owning our own private security firm was the right choice for us after retirement," Mark said. "Part of what has made our partnership a really good fit is that we all have similar backgrounds. Jeff has a strong operational background from his military years, and he's our planning guy. He can set goals and metrics and also plan strategies to help us meet them."
The law enforcement experience that Rick and Mark share makes them familiar with the kind of security issues that clients face. They're acutely familiar with security issues in retail, apartment complexes, and other areas they patrol. They know why copper is stolen — and that often it leads back to drugs — which helps when they're selling to potential clients.
"We have a good grasp on investigating crime, and we also have an understanding of how to prevent it. Sometimes you hear that a client is frustrated with a lack of police presence in their neighborhood. We can explain to them how to supplement their police presence," McClure explained.
"We can talk to potential customers with authority about the biggest areas where they are vulnerable, and we know that helps them feel secure placing their trust in us to be part of the solution," Dunn said.
Carlyle added that being an officer in the Armed Forces gets you into that operational mindset, and chances are pretty high that mentality will stay with you in everything you do for the rest of your life. 
"That really helps me know what needs to be done for our business, and implement it effectively" Carlyle said. "Also, my military background gives me a good eye for the future and goal-planning. I can approach things tactically, setting metrics and milestones to be met along the way." 
Dunn added, "We've all got pretty strong people skills, and we all have this thing in us that makes us want to serve our communities. I think it helps us see where our clients and potential clients are coming from, what their pain points are and how we can be seen as part of the solution."
Police and military tend to be the people who rush in when others are rushing out. Now that they're business owners, they don't have to do too much of that but it helps them be better employers because they know that they're asking their people to go into potentially dangerous situations.
Working Hard and Smart
All three men agree that if you're looking to retire from the force and just sit back and let the checks roll in, owning a private security franchise isn't for you. You have to really want to help people, and you have to really want to build those relationships in the business community.
But you don't have to reinvent the wheel. As a police officer, you already have the skills and the knowledge you need for private security: discipline, awareness of crime and criminal behavior, a cool head under pressure, and respect for procedure. If there are any skills you think you're missing, or if you feel like you could be stronger in a particular area, like the operations side of things, find a partner with those skills.
Dunn, McClure, and Carlyle offered several key pieces of advice working cops — and even recent retirees — can do now to help prepare for a second career. 
1. Take advantage of every training opportunity in every phase of your career.
2. Building as many relationships as you can. That way, when you're telling potential clients about your business, they will already see you as someone they can trust.
3. Pay attention to your strengths and weaknesses and how they will apply to your future business. If there's an area where you think you could use some help, consider finding a partner who can complement your skills. 
4. Identify what size market you want. In a smaller market, it might take longer to build your business but you have the opportunity to be the local leader in your industry. In a bigger market, you hit the ground running, but there's a lot more competition.
"Not everyone needs a business partner, but I wouldn't advise going it alone," McClure said. "By being part of a franchise network, we can own our own business and still have the training, software, marketing, and business coaching support of the greater Signal 88 family. Just like in the old days, it's nice to know that someone has our back."
Dunn added that while you need to pound the pavement and network to get clients — as well as hiring, financing, and other critical tasks necessary in any business — their decision to go the franchise route gave them a few key benefits. 
"I can't imagine also having to worry about establishing best practices, figuring out which vendors to partner with and the million other things that I really didn't have to think much about, because our franchise network had it covered," Dunn said. 
Once you're in business, the trio offers this additional counsel:
1. Grow intelligently, not chaotically. It's tempting to get swept up in growth potential, but you need to keep a constant eye on the bigger picture and your long-term goals. 
2. Deliver on what you promise. That's why owning a business is such a good fit for so many veterans and retired law enforcement. By nature, they tend to be the type of people that others can rely on.
3. Make sure you have a great support system and great partners.
Jeff Carlyle, Rick Dunn, and Mark McClure are clearly doing something right — this year their office was the Signal 88 Franchise of the Year. 
Congratulations guys. Happy retirement!