Md. female fire and police chiefs break the 'brass ceiling'
Women in Baltimore suburbs are making history with their appointments
---
Alison Knezevich
Baltimore Sun
BALTIMORE — When Trisha Wolford landed her job leading the Anne Arundel County Fire Department, she texted someone she had never met.
In Howard County, Christine Uhlhorn had also just been named fire chief. When the two women met, it didn't matter that they didn't know each other. Wolford says she found "instant support."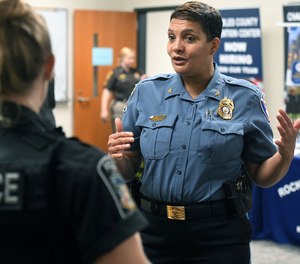 Now, their circle has grown to include more women — and "we have an awesome little group text," says Wolford, 41.
Across the Baltimore suburbs, women are rising to the top of public safety agencies for the first time in their departments' histories. Today, Anne Arundel, Baltimore and Howard counties all have female fire chiefs. Women lead the police in Baltimore and Howard counties, too.
"Seeing someone in that position gives hope to so many others," says Capt. Angela Hughes of the Baltimore County Fire Department, who is president of the international organization Women in Fire. "It gives you that reassurance that you can do it, too."
Some of their challenges are common to chiefs across the region, no matter their gender: Battling the opioid crisis, trying to boost lagging recruitment in the case of police, and working to improve the wellness of their employees.
But the appointment of so many women at the same moment represents a dramatic shift from the past.
This time last year, there were no women in charge of police or fire departments in the Baltimore region. That changed with the election of new county executives in the suburbs in December, all Democrats who appointed new chiefs: Calvin Ball in Howard County, Johnny Olszewski Jr. in Baltimore County, and Steuart Pittman in Anne Arundel County.
The Washington suburbs of Maryland also have seen historic firsts, with Fire Chief Tiffany Green in Prince George's County and Police Chief Amal Awad in Hyattsville.
"It's energizing," says Wolford, who was an art major in college and joined the fire service in her late 20s after working as a graphic designer.
Growing acceptance of women in public safety roles and a desire for change within agencies has helped fuel the shift. The new chiefs are in a unique position to work with other local women leaders in fields that remain dominated by men.
"I don't hesitate to ask the silliest questions to any of them, because I don't think they're judging me," says Baltimore County Fire Chief Joanne Rund, 55, explaining that it's harder to ask male counterparts how to handle tough situations because "I don't want to lose respect with them."
In the early 1980s, Rund was working as a hairstylist in Eldersburg when a cousin, a volunteer firefighter in Sykesville, came to live with her family while going through a divorce. She started going out on calls with him — and she was hooked. She started volunteering before joining the Howard County department in 1987.
There, she became close friends with Uhlhorn as both worked their way through the ranks.
A third-generation firefighter who grew up in Southwest Baltimore, Uhlhorn loved visiting her father's firehouse on Frederick Avenue in the city as a young girl.
"There was never any other career option for me," say\u00ad\u00ads Uhlhorn, 51, who founded the St. Florian's Brigade, a group that supports women in the county fire department and is named for the patron saint of firefighters. "My parents never said, 'Oh, you can't be a firefighter because you're a girl.' Honestly, as a kid, I didn't know that it would be challenging for me."
All the chiefs had family members who worked in public safety, all of whom were men. Baltimore County Police Chief Melissa Hyatt's father was a commander in the Baltimore Police Department. Wolford fondly remembers visiting her firefighter uncle and cousin at work as she grew up in Rockford, Ill.
Howard County Police Chief Lisa Myers' father was a military police officer in the Army, and her uncle was Baltimore's first black police captain.
But growing up in Baltimore, Myers had another dream — to be a mortician. She got interested in the funeral industry after her grandmother died and studied mortuary science at community college.
But Myers, now 53 and also the county's first African-American police chief, ultimately pursued a criminal justice degree at Coppin State University and joined the Howard County department in 1990 as a civilian in the crime lab. When she entered the county police academy four years later, she was the only woman in her class.
Over the past few years, cities including Fort Lauderdale, Florida, and Lexington, Kentucky, have appointed their first female fire chiefs. Women have taken the helm of police departments in major cities like Oakland, California, and Dallas.
"The biggest change for women is that women have started to feel confident enough to apply for jobs around the country and to move around, which has been very much the male career path," says Dorothy M. Schulz, a retired professor at the John Jay College of Criminal Justice and author of "Breaking the Brass Ceiling: Women Police Chiefs and Their Paths to the Top."
With law enforcement under greater scrutiny, female leaders are often expected to bring a fresh perspective to their agencies, but Schulz thinks it's "a false idea" that they will radically change policing simply because they are female.
"You can't turn policing into social work," Schulz says. "You wear a uniform. You carry a gun."
Women remain greatly outnumbered in policing and firefighting. Nationally, about 12% of police officers are women, according to federal statistics. Just 3% of local police chiefs are women.
They are even less represented in fire departments, making up about 7% of firefighters, according to Women in Fire. The organization doesn't have statistics on female chiefs.
Being such a minority can put a lot of pressure on women, says Hughes of Women in Fire, who is often mistaken for a paramedic.
"Many women that I talk to we feel like we're always in the spotlight," Hughes says. "Sometimes that little bit of self-doubt can play head games with you. So often, we're working so hard to prove ourselves."
While women's numbers remain small, progress shouldn't be overlooked, Hyatt, 43, says.
"When I look out compared to when I first started in the profession in 1997 … it's so different," says Hyatt, who was a 20-year veteran of the Baltimore Police Department as well as the head of security at Johns Hopkins University and Medicine. "I remember a time when I didn't have any locker room to use."
McClatchy-Tribune News Service