PRESS RELEASE
4N6XPRT Systems Shipping 2013 Update to Export AutoStats program. 
---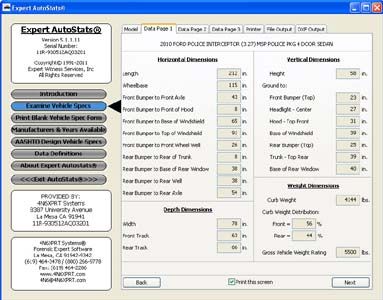 La Mesa, Calif. -4N6XPRT Systems has begun shipping the 2013  Expert AutoStats vehicle database program to the vehicle accident investigation community.

Expert AutoStats, the most complete vehicle database available in years covered as well as information contained, is provided as a FULL WINDOWS PROGRAM compatible with both the 32-bit and 64-bit versions of the Windows Operating System.

The database contains well over 43,000 model year vehicles, covering model years from the late 1940's through 2013 and selected 2014 model year vehicles. Minimum data provided for every vehicle in the database is Length-Width-Wheelbase-Height-Curb Weight-Weight Distribution.

Most of the vehicles 1980-present also include "detail" dimensions which may be of specific interest to Accident Investigators such as Bumper, Hood, and Windshield  Heights, Front/Rear Overhang,  moments of inertia, center of gravity placement, as well as performance information - 0-30 mph, 0-60 mph, and 60mph-0.

For additional information please see our website - www.4N6XPRT.com
About 4N6XPRT Systems
The principal product for which 4N6XPRT Systems is known is the Expert AutoStats® program. Since its introduction in 1991, Expert AutoStats® has grown from a database of 12,000 vehicles to over 41,000 vehicles in the 2011 edition. Unlike printed sources, each update corrects reported omissions in the existing data as well as adding the new models. It is currently the only database program available for purchase having this depth of models, breadth of years, and detail of information. Expert AutoStats® is owned by over 300 Government agencies and 700 private consultants within the United States, Canada, and South America, as well as several major automotive manufacturers and insurance claims departments.

Request more info from 4N6XPRT Systems
Thank You!