The 6 most popular plate carriers our readers are talking about
If you're in the market for a plate carrier, then check out these buyer favorites
---
Content provided by GovX
By Brent Hannify for Police1 BrandFocus 
Looking for a plate carrier? Depending on your loadout, you can go lightweight and mobile, or you can choose heavy and tank-like. Plate carriers are more than just a convenient way to carry your extra magazines. They might just be the thing that saves your life (or could help you to save others).
Don't skimp on this incredibly important item in your gear arsenal. Here are six of the most popular carriers available on GovX.

This is the bestselling plate carrier available on GovX for several good reasons. The most commonly praised quality of the TacTec is its all-around, all-day comfort.
One member listed seven different carriers he's tried over the years and reported the TacTec as the most comfortable. The skeletonized waistband and yoke shoulder pads offer a secure that hugs the torso without pinching it or chafing during fast movement. It's lightweight, distributes armor and ammo's weight evenly across the shoulder pads, and features an extendable GrabDrag handle which is useful for emergency scenarios where someone might need to drag you to safety.

If you're a larger-than-life operator, consider the flagship carrier offered by Fox Tactical. Designed for people over 6 feet and over 250 pounds, the Big & Tall Vital Plate Carrier might be for you. It's front and back plate pockets fit up to 10 by 13-inch plates, and the side pockets fit up to six by eight-inch plates, secured with hook and loop pocket closures. Like the TacTec, it also has a grab handle. Though considering who will be wearing it, anyone using the handle should probably be on the bigger side as well.

Here's one that comes with armor included! This Spartan Armor Systems package comes with two 10 by 12 Level III-rated backplates and two 6x6 Level III-rated side plates. The carrier itself featured 860 Denier Poly construction and a network of MOLLE webbing for carrying random gear. The fit is adjustable, going from Medium to XL. Oh, and a drag handle? Check.

Lined with half-inch thick closed-cell foam and padded with space mesh for comfort and sweat-resistant breathing, the Patriot is an American made workhorse. Adjustable in the shoulders and the sides for most torso sizes, it's a popular choice among operators of all sizes. The side plates are removable, adjustable, and can fit both 10 by 12 and 11 by 14 plates. Available in four distinct color schemes.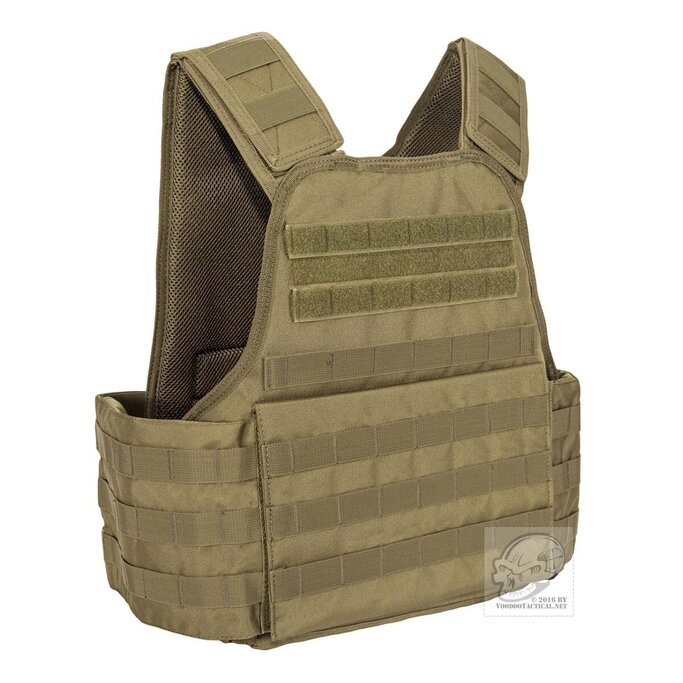 This lightweight plate carrier from Voodoo can be worn without or without the cummerbund. You can also choose to wear it with the cummerbund, but without armor, instead opting to stick paperwork and other gear in place of a plate. Includes a mesh lining for breathability and comfort, and yep, it also has a drag handle.

This one is designed to get you into the fight as quickly as possible, without skimping on protection. It's designed with a small profile shooter's cut but can accept 10 by 12 ballistic plates. If a high-intensity scenario is going down, just pull it out of the trunk, snap closed the side release buckles, and you're ready to rock.

Request information from GovX
Thank You!