Field Tests: Advancer V-12 Goggle from Eye Safety Systems
---
Editor's Note: The following article by Mike Boyle originally appeared in Police Marksman magazine.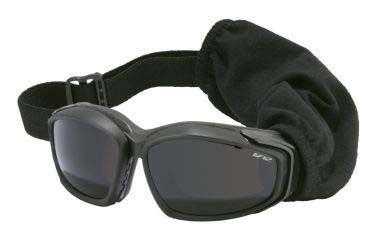 The Advancer V12 Goggle is ideal for both military and law enforcement applications.
In a life-threatening situation, our reliance on our primary sensory receptor (our eyes) becomes even more critical. In short, warriors need to protect their vision. Eye Safety Systems Inc. (ESS), a leader in protective eyewear, markets a wide range of eyewear including goggles and sunglasses specifically designed for those who go in harm's way.
This Idaho-based firm has become the most widely purchased combat goggle and has won every major U.S. military solicitation since 2003. ESS products are also used by the armed forces of other nations and by soldiers deployed to Iraq and Afghanistan.
Unique to the ESS line is the Advancer V-12. Billed as the most advanced military goggle in the world, the Advancer V-12 boasts any number of innovative features. After personally checking them out, I'm confident this protective eyewear has much to offer the soldier and tactical specialist.

One common gripe associated with conventional google systems is fogging. Humidity and physical exertion often make it impossible to maintain a clear field-of-view. The ventilation system in conventional goggles simply doesn't provide sufficient airflow to prevent fogging.
ESS has taken a big step forward in addressing this issue with their Adjustable Ventilation System (AVS technology). With the Advancer V-12, AVS technology allows the user to click the lens forward to initiate maximum airflow and eliminate fogging. The lens can also be snapped shut to seal out sand, dust or other debris.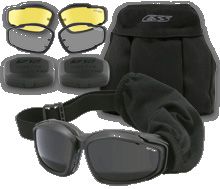 3-Lens Version Includes:
An Advancer V-12™ goggle with Clear, Smoke Gray & Hi-Def Yellow lenses, two protective Lens Pods™, an anti-reflective SpeedSleeve™, and a protective V-12™ Soft Case
The patented sidewinder strip outriggers, which control the opening and closing of the ventilation system, are designed for optimum helmet compatibility. Two 2.8mm polycarbonate high-impact lenses (clear and smoke) are included with the Advancer V-12 kit, along with a lens pod and an element proof case. Amber colored lenses are available as an option. All lenses provide 100% UVA/UVB protection and are designed for precise optical clarity.
The Advancer 12 affords the very best eye protection. Lenses are designed to exceed the current military standard for ballistic protection. In testing, an ESS CDE high-grade polycarbonate lens defeated a .25 caliber steel ball traveling 391 feet per second. During testing, inferior lenses used in sport, fashion and sunglasses shattered upon impact. The strap system of the Advancer 12 consists of a 19mm high memory, elastic strap. Quick-adjust slides allow the end user to fine tune comfort and fit. The lightweight frame is extremely durable and conforms to any shape of face. An optional stealth sleeve is available to eliminate lens glint and keep the goggle and lenses clean and scratch free.Users who require prescription lenses can also utilize the Advancer 12. Prescription lenses can be fitted by an optometrist into the ESS Vice RX insert, which installs inside the goggle frame.
To better evaluate the potential of the Advancer V-12, I wore a set during a few different training sessions. Winter and 20˚ F weather may not seem to be the best time to evaluate the AVS anti-fogging feature, but I could definitely detect a difference with the lenses open and closed. Even in cold weather, physical exertion can create condensation inside conventional goggles. With the lenses of the Advancer V-12 locked open, air exchange was quite evident.
For the tactical specialist, the Advancer V-12 has much to offer. When worn for long periods of time, the comfort factor is quite good. Best of all, the Advancer 12 will protect your eyes from glass, splinters, masonry particles, bullet fragments and other secondary missiles sometimes encountered in the operational environment. True to the manufacturer's claim, the Advancer V-12 may very well be the most advanced military goggle in the world.



Eye Safety Systems, Inc.
P.O. Box 1017
Sun Valley, ID 83353
Phone (877) 726-4072