PRESS RELEASE
5.11 Tactical releases new footwear for Fall 2023
---
COSTA MESA, Calif. — 5.11 Tactical, the global innovator of Purpose-Built Gear™, today announced the release of a wide range of new footwear for fall 2023.  
"Footwear is an essential piece of gear for being comfortable, protected and efficient during any task," said 5.11's Brendan Rynne, Senior Category Manager, Footwear. "Our end users and product team also understand the importance, which is why we strive to design footwear that allows our customers to perform at their best in all aspects of life. Whether it's in the gym, on duty, exploring a trail, or just day-to-day life, we want to offer reliable performance footwear that lives up to our Purpose-Built Gear™ motto." 
Fans of 5.11's A/T Series® of footwear will be pleased to see the new A/T™ Trainer 2.0 ($110). An amazing choice for fitness training, hiking, or even as a duty shoe for bicycle police and other high-milage positions, it features a new, highly durable TPU exoskeleton as well as 5.11's All Terrain Load Assistance System Technology plate for maximum support. Newly integrated mesh construction in strategic locations adds a nice touch of breathability and comfort to this durable and comfortable option.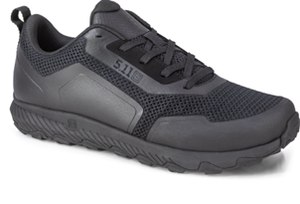 A new option for training enthusiasts will also be offered by the Max Grip Trainer ($100) that's built for breathability and durability while providing a stable platform during any workout. It features a protective TPU exoskeleton, a mesh upper to prevent overheating, and a new MaxGrip outsole designed to create a stable platform and reliable traction for any workout while also supplying comfort and cushioning from the midsole. The TPU heel reinforcement creates added durability to withstand the most intense training sessions.   
The Foley Mid ($80) and Foley Low ($75) are new additions to the brand's everyday-ready Norris family of shoes. In addition to improved fit and size extension to now offer wide shoes, both Foley styles feature a newly updated Vibram Hexgrip outsole providing better traction in all environments. Both versions also include increased cushioning and comfort with the addition of a drop-in X-40 Ortholite® footbed. They also have a ballistic nylon upper for added durability.   
Through utilizing end-user feedback, 5.11 designed the McClane Mid ($100) as the next generation of the Norris Sneaker family. Similarly to the Foley styles, the new McClane Mid features an improved fit and extended sizing to include wide options. The McClane features a new breathable tongue for all-day comfort and an updated Vibram Hexgrip outsole with better traction in all environments. The new drop-in X-40 Ortholite® footbed provides for more cushioning and comfort while the ASTM puncture-resistant board has also been added and certified to US standards.   
5.11's first two AR 670-1 complaint boots have been introduced to the line for this Fall; the EVO 2.0 8" AR 670-1 and the Speed 4.0 8" AR 670-1. The EVO 2.0 8" AR 670-1 ($160) is equipped with Force Foam® cushioning and an Ortholite® footbed for comfort and support that endures. These EVO 2.0 8" Boots are Army Regulation 670-1 compliant for U.S. Army Wear with MultiCam and Operational Camouflage Pattern (OCP) uniforms.  
5.11's other AR 670-1 compliant option is offered in the Speed 4.0 8" AR 670-1 ($120). These lightweight boots provide outstanding features and value. Crafted with suede leather and 1200D nylon, Force Foam® heel cushioning, and an Ortholite® footbed, they will make sure feet are feeling good no matter the job. Additionally, the ASTM slip- and oil-resistant outsole is stitched for hard use and the brand's heat deflect material helps shield feet from radiant heat from the ground. Like the EVO 2.0 8" Boots, these Speed 4.0 8" Boots are Army Regulation 670-1 compliant for US Army Wear with MultiCam and OCP uniforms. 
For more information about 5.11 Tactical and its product offering, or to find a 5.11 Tactical store near you, visit www.511tactical.com. 
About 5.11, Inc. 
With offices around the globe, 5.11 works directly with end users to create Purpose-Built Gear™ to enhance the safety, accuracy, speed, and performance of tactical professionals and technical enthusiasts worldwide. 5.11 products exceed rigorous standards, which have allowed the brand to establish a reputation for innovation and authenticity, and become the premier choice for those who always have to be ready. 5.11 products can be purchased online, through authorized dealers and retailers, as well as at 5.11 company-owned retail stores. 
Learn more about 5.11's best-selling gear and accessories at www.511tactical.com. Find a full list of 5.11 company-owned retail stores at https://www.511tactical.com/locations/. Connect with 5.11 on Facebook, Twitter @511Tactical and on Instagram @511Tactical and #511tactical 

Request more info from 5.11 Tactical
Thank You!