PRESS RELEASE
QALO partners with Folds of Honor to support the families of american heroes
---
New silicone ring and dog ID tag collection will directly contribute to providing scholarships to the families of fallen or disabled US military and first responders
SANTA ANA, Calif. – QALO has partnered with Folds of Honor to launch a collection of comfortable yet durable silicone rings and jingle-free dog ID tags that allow customers to show their support for families of fallen or disabled US military and first responders. For each product sold from the collection, $1 will go towards providing life-changing scholarships to the spouses and children of these American heroes.
The collection includes four rings and two dog ID tag designs. These six products represent the six branches of the military and the six stars shown on the flag when folded during a soldier's funeral. Each ring features variations of red, white, and blue and/or patriotic symbols to pay homage to the sacrifices these fallen heroes have made for our country. The dog ID tags resemble traditional dog tags worn in the military, so even furry friends can show their support.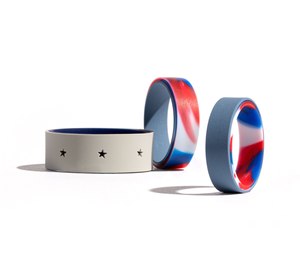 "Active members of the US military, veterans, and their families have been a pillar of the QALO community since the beginning, and so we were honored to collaborate with Folds of Honor to support the families of our nation's heroes," said Emily Mullins, General Manager of QALO. "We worked diligently with the Folds of Honor team to ensure that this collection truly encapsulated the symbolism behind the Folds of Honor mission. By wearing these rings and ID tags, we hope our community feels a sense of empowerment and pride in supporting the sacrifices of others."
"Folds of Honor is proud to team up with QALO," said Folds of Honor President Col Nick Nichols.  "QALO's long-standing support of the military and first responders aligns with our mission. We believe this partnership will increase scholarship funding to the families we serve. Together we will meet sacrifice with hope."
Folds of Honor Foundation was founded by Lieutenant Colonel Dan Rooney, a decorated F-16 Viper Fighter Pilot. Since 2007, Folds of Honor has awarded nearly 44,000 life-changing educational scholarships, with 41% percent awarded to minority recipients. An astounding 91% of donated funds go directly toward scholarships, earning Folds of Honor a 4/4 rating on Charity Navigator.
The QALO x Folds of Honor collection is available starting today for $29.95 - $39.95 MSRP at QALO.com.
About QALO
Founded in 2013, QALO started life as pioneers of the silicone wedding ring, inspired by the belief that you should never have to choose between your own safety and comfort, and showing your commitment to the one you love. QALO has spent years creating ultra durable, 100% safe silicone rings that are so flexible and lightweight, you'll barely realize you're wearing them. Today, QALO makes a range of active lifestyle products, all purpose-designed to remove the barriers that get in your way, and help you through life's adventures. Because you should never have to compromise on the things that matter most. To learn more about QALO, please visit QALO.com.
QALO is part of Win Brands Group (Win), an omnichannel retail platform that buys and builds category-defining brands. In addition to QALO, Win's current portfolio includes Homesick (scented candles and home fragrances), Gravity (the original weighted blanket), and Love Your Melon (mission-driven outerwear).
About Folds of Honor
Folds of Honor is a 501(c) (3) nonprofit organization that provides educational scholarships to the spouses and children of military members who have fallen or been disabled while serving in the United States armed forces. Beginning in 2022, Folds of Honor expanded its mission to include first responders. Its educational scholarships support private-school tuition or tutoring in grades K-12 as well as post-secondary tuition. It is rated a four-star charity by Charity Navigator and Platinum on GuideStar. It was founded by Lt Col Dan Rooney, an F-16 fighter pilot currently stationed at Headquarters Air Force Recruiting Service Detachment 1, at Joint Base San Antonio-Randolph, TX. For more information, visit FoldsOfHonor.org.

Request more info from Folds of Honor
Thank You!