PRESS RELEASE
Lenco Announces Successful Blast Testing of BEAR® Troop Transport Armored Vehicle
---
Testing conducted at US Army's Aberdeen Test Center
Lenco Industries, Inc., the global leader in the design and manufacture of armored police vehicles, announces successful underbody and side blast testing of the BEAR® 17-man Troop Transport Armored Vehicle designed for Military and Government personnel and International Security Forces operating in hostile environments around the world.   
The blast resistant BEAR combines Lenco's proven Mil-Spec steel armor construction with an additional composite B-Kit and engineering changes designed to deflect blast pressure.  Modeled after traditional MRAP (Mine Resistant Ambush Protected) vehicles, the BEAR's V-Hull construction and armor package can withstand direct underbody blast and close proximity mortar round attacks.  Testing was conducted at the US Army's Aberdeen Test Center at Aberdeen Proving Grounds.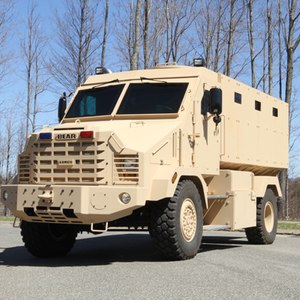 The blast resistant MRAP BEAR is currently fielded overseas in hostile regions by US Government Convoy teams and Diplomatic Security details. In addition to the vehicle's armor protection, key survivability features include blast seats, full fire suppression capabilities and run flat tires. A variety of communications and intelligence sensors are also available based on customer requirements.
 "Improvised explosive devices continue to be one of the most pressing concerns for military operatives and overseas diplomatic transport," explains Lenco Vice President, Len Light. "And we're proud to provide a blast resistant vehicle that has proven to outperform its military counterparts in protection and survivability."
About Lenco Industries, Inc.
Lenco Industries designs and manufactures armored tactical vehicles for Law Enforcement, Military and Government agencies located throughout the United States and allied nations around the globe. Lenco vehicles are trusted every day to protect our nation's defenders and first responders in safeguarding our domestic homeland security, as well as downrange in hostile regions such as Iraq and Afghanistan. Lenco's client base includes hundreds of Law Enforcement Special Response teams, including the Los Angeles Police, LA Sheriff SEB, Boston PD and the New York Police Department.  Lenco is also a proud supplier to the US State Department, Department of Energy, US Air Force Global Strike Command, FBI, US Marshals and many other high profile federal agencies. Lenco's product line includes the BearCat and larger BEAR armored vehicles, with several variants of each including the MedCat, BombCat, Riot Control, VIP and MRAP blast protected vehicles. For more information, visit www.LencoArmor.com.
Request more info from Lenco Armored Vehicles
Thank You!