Police body armor: More .06 on the horizon
Despite industry tumult and uncertainty over the comfort of new .06 vests, ballistic protection is saving the lives of officers around the country
---
Editor's Note: In the original article below, we had included a sentence that mischaracterized First Choice Armor as "owing the government millions." The sentence referred to a suit filed by the Department of Justice against the company in August 2009, which is currently being resolved. We apologize to First Choice for the error and have retracted the passage from the article.
We've seen some tumultuous activity in the body armor industry during the first quarter of 2010. Protective Products Enterprises recently acquired the assets of Protective Products of America through a bankruptcy sale. Gator Hawk, which was bought by Pacific Armor two years ago, is rumored to be for sale again. Oh, and of course, there's also the ongoing fallout from the arrest of several major players in the industry during the opening hours of SHOT Show 2010 back in January.
So what's the good news?
Despite all those "negative" headlines lately, there have been some very encouraging events and milestones as well. Most importantly: body armor is saving cops' lives.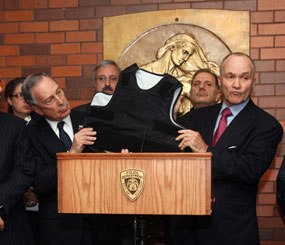 Just yesterday in New York City, 25-year-old NYPD Officer Robert Salerno was ambushed and shot three times at close range but survived — reportedly in critical but stable condition and telling his fellow officers that he plans to be back on duty as soon as possible.
Late last week, Chris Young, a 27-year-old cop from Oak Hill, West Virginia was shot in the chest but survived because of his body armor.
In January, Safariland held an event at which the company added three more cops — Jacksonville Sheriff's Office Detective Jared Reston, Cedar City Utah Police Officer Jason Thomas, and Missouri State Trooper Cody Dunfee — into the Safariland Saves Club.
Still Saving Lives
To our knowledge, all those saves are still attributable to armor designed to the .04 and .05 standards (NOTE: if you know of a save credited to .06 armor, we want to hear about it so send us an e-mail).
"Most every vest out there is over-engineered compared to [the threats] out there on the street," Steve Armellino, Founder and President of U.S. Armor Corporation, tells Police1. "Look, vests historically — those .04 and .05 vests — are saving cops all the time. Look at all the DuPont saves who are out there. There are over 3,000 of them."
In addition, other products on the market like rifle plates and ballistics shields continue to help keep officers safe in the line of fire. In fact, some of the newest gear from U.S. Armor is a new line of rifle plate carriers — the RPC and Extended RPC — and a corresponding Level III Polyethylene rifle plate should soon have the interest of numerous tactical operators.
New .06 Vests
Also on the positive side of the ledger is the fact that new designs and developments in armor meeting the .06 standard continue to come to market. Most recently, First Choice announced the .06 certification of its latest Synergy IIIA XS6X line of soft, flexible, high-performance, lightweight body armor. Earlier this month, Safariland added new concealable and tactical ballistic protection options from the company's Second Chance Summit and PROTECH Tactical series. And U.S. Armor — which has been patiently waiting and watching competitors release vests in the .06 standard — is set to reveal its first entrants in early April.
"U.S. Armor is intentionally the last major armor company to come to the .06 party, partially because the NIJ has already issued six 'Administrative Clarifications' to the new standard since it was released last year," explains Armellino.  "We've now got vests scheduled for .06 starting in April. We've got a Level II, a Level IIIA, coming in the first couple of weeks in April and then we're going to follow with a series of products for female officers, all coming out."
Armellino shrugs off criticism for not being among the first companies out of the gate with .06, and in many ways, he's absolutely right. An oft-repeated axiom is that while the early bird may get the worm, but the second mouse gets the cheese. He points out that his company "held back on using Zylon in its day because of our excessively cautious vetting processes," and in retrospect he looks like a genius. That turned out to be exactly the right thing to do.
"While it might seem we are a little behind the curve, there really was no sense in doing otherwise, considering the cost of the testing, to go just throw something out there. I wanted to make sure we knew how we were going to position the .06 product throughout the industry. We knew we'd lose a few in the beginning, but in the long run, we will have invested our money the right way — especially in today's economy — and we'll be competitive."
Armellino says that above all, he's putting his company on a path he can be certain will benefit cops. "By applying what some may consider excessive research, development, and testing, we know that we've got it right and that our customers will continue to get the quality, performance, and dependability they've come to expect from us," he says.
A Question of Comfort
When you look at the marketing jargon for vests meeting the .06 standard, you no longer see words like "light, thin, flexible, or soft" that were commonplace in the product descriptions of vests containing Zylon.
That this is simply the nature of the post-Zylon world of police body armor, Armellino says. "The sad thing is that to make a product right now that's going to pass .06, we're all working with the newest technologies from the best fiber manufacturers but everyone is still coming up with vests that aren't going to be as light or as thin as they were before. They're not going to be as soft and flexible as they were before."
In time we'll get to a place where .06 vests are described that way, but for now, companies will use words like "robust." Meanwhile, the materials manufacturers and vest designers continue to work on new innovations, and an inevitable consequence of that work is that armor will continue to evolve, and improve.
Speaking specifically of the materials manufacturers, Armellino adds, "They're all working away and they're coming up with new ideas, new weaves, laminates and a lot of those new products have been introduced into people's .06 products. These materials providers are still working on even better materials and that's really where the hope will be — that maybe in a couple of years we end up with thinner, lighter, and better."
Down the Road
Time will tell what will happen with the new models of .06 armor hitting the market. We hope (and predict) that .06 armor will help the IACP DuPont Survivors Club continue to add new members to the ranks of that righteous group.
One thing is certain: no matter what armor you've got in your locker, it's not doing you any good in your locker.
As one Police1 member said in the comments area beneath this week's good news about Oak Hill Corporal Chris Young, "We are issued armor, policy requires you wear it, but sadly [that is] not enforced and lots of guys don't wear it. It's the modern version of Russian roulette. I just don't understand it."
Another member added, "My life was saved in 1995 by wearing body armor. I still see some officers in my department not wearing their body armor. Some just don't get it. Semper Fi."

Request product info from top Police Body Armor companies
Thank You!