Instant Armor Protects Public Safety with Spartan Shield - A Lightweight, Rigid, Ballistic Shield
---
Simi Valley, CA - Designed and intended for First Responders, the Spartan Shield™ from Instant Armor is a 2-piece, lightweight, rigid, ballistic shield that is deployed in under 5 seconds. Ballistic shields are hand-held shields capable of defending the user, usually law enforcement and military personnel, from handguns and long guns in Active Shooter, rescue and assault situations. Choose from a variety of 4" X 10" ID nameplates (Police, Sheriff, S.W.A.T. FBI and more) attach by Velcro®.
The Spartan Shield™ is designed to utilize all of the existing attachment straps that has made the Instant Armor Tactical Blanket Systems™ so versatile. It is available in both rifle and handgun versions.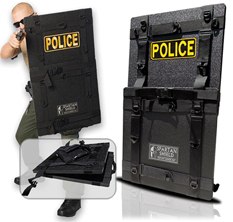 Meets or exceeds N.I.J. threat level III (rifle) or IIIA (handgun), the Spartan Shield™ defeats high-powered rifle rounds and gives you 19" wide by 34" tall protection when deployed. It easily fits behind seat or in a niche in the truck when folded -only measuring 19" by 19". It's lightweight form allows lightning fast deployment at only 16.3 pounds.
All Instant Armor products are proudly made in the USA.
More on Instant Armor - Instant Armor is the originator and exclusive manufacturers of the patented Tactical Blanket Systems™. Instant Armor has been serving law enforcement, military and other first responders in need of ballistic protection since 1998. The entire Instant Armor product line is manufactured in the USA.
The Tactical Blanket Systems™ and Spartan Shield™ are truly unique. Lightweight, high performance ballistics, large coverage... protection only dreamed about just a few years ago.
At Instant Armor, we make only one type of product, ballistic protection with the Tactical Blanket Systems™ and Spartan Shield™. We won't cut quality for profit and we only have one goal in mind. That is... every officer goes home safely every night. 
Visit our web site for more information at www.instantarmor.com.

Request more info from Instant Armor
Thank You!