PRESS RELEASE
Molle Pouches with a Class A Uniform look? - BlueStone Safety makes it possible
---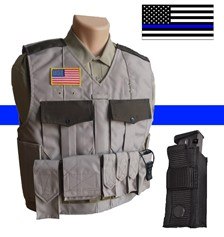 To stay healthier and more comfortable on the job, most officers want to wear an external vest carrier (or load bearing vest).  If they choose to wear a vest with molle on it however, they face two problems:  Keeping a clean, Class A Uniform look, and finding the pouches they want, in the colors they need. While this used to be an issue, BlueStone Safety Products fixed the problem by creating Class A custom load bearing vests with molle on the bottom half, and custom molle pouches to fit the items you want, in the color you need.
BlueStone offers one the widest selections of molle pouches on the market, because the pouches are made to fit your exact items. They don't just offer one-size-fits-all pouches to hold your gear; while you're placing an order, they take the dimensions of your items to ensure you receive a molle pouch that will properly fit the intended item. Pouches that are custom made to hold your exact gear look cleaner, giving you a professional and uniform look while on the job. BlueStone makes molle pouches to hold the following items:
Batons
Flashlights
Double Handcuff
Tasers
Radios
Cell Phones
Tourniquets
OC/ Pepper Spray
Pistol Magazines (Open Top or With a Flap)
Rifle Magazines
Custom Pouches (contact one of our sales reps for more information
These molle pouches are all made using the same durable material as BlueStone's custom load bearing vests.  That means if you order a load bearing vest and molle pouches from BlueStone, the pouch color will match the vest perfectly, blending in and giving you a true uniform look.  If you do have a different brand of molle vest carrier however, don't worry;  BlueStone molle pouches will fit on standard molle vests, so you can still carry your gear in the finest pouches on the market.  Since uniform colors can vary between departments, they offer a wide selection of colors to accommodate your needs, including:
LAPD Blue
Black
Brown
Tan
Forest Green
Sky Blue
Gray
Olive
Red
Custom Colors (contact one of our sales reps for more information)
Whether you're an officer working in a city of 500 or 500,000, you need durable pouches that'll properly hold your gear. Custom molle pouches in the color you need are just a click away. To order your own BlueStone molle pouches, visit their website at https://bluestonesafety.com/products/police. 

About BlueStone Safety Products
BlueStone Safety Products is a state-of-the-art defense company that manufactures custom load bearing vests / outer carriers for LE.  Mayo Health Clinic and the University of Wisconsin-Eau Claire completed a research study with the Eau Claire Police Department, and concluded that wearing BlueStone load bearing vests effectively reduced officers' lower back, sciatic, and hip pain; Eau Claire then chose BlueStone to be their direct manufacturer.  You can find this case study on our website.
BlueStone takes great pride working with some of the finest Sheriffs and Chiefs across our nation. No matter your department size, we'll assist you.  We specialize in keeping officers in good health, good posture, and pain free while on the job.
Our vests give officers a uniform look, made to the Chief's or Sheriff's exact specifications.  If you can dream it we can make it;  all of our vests are proudly made in the USA (not overseas), and made custom to each officer's measurements. BlueStone vests are a long-term investment to protect your officers from poor physical health, keeping our officers healthy and able to support their communities.
We also offer our brand of multiple armor threat levels.

Request more info from BlueStone Safety Products
Thank You!