PRESS RELEASE
Separate your lethal and non-lethal equipment with BlueStone Safety load bearing vest carriers
---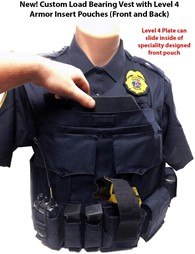 WISCONSIN DELLS, Wis. — While officers do perform training drills to learn and memorize the location of their items, many departments still keep all of their lethal and non-lethal items together on the duty belt. Due to this, they reach for their duty belt whether they need a lethal or non-lethal item. While the TASER is generally on the opposite side of the duty belt as the firearm, with the added amount of stress and pressure involved with being an officer today, it is more important than ever to space out officer's lethal and non-lethal items; this helps increase safety and ensures that they grab the correct equipment. One way to separate these items is to utilize the BlueStone training method.
With a BlueStone Safety load bearing vest, an officer can keep all of their non-lethal items (such as their baton, TASER, and OC) completely separate from their firearm. After an officer moves their non-lethal items on to their BlueStone LBV, they can undergo training to enhance their muscle memory where each item is. If they ever need their TASER, or anything non-lethal, an officer will know to reach for their vest. If an officer needs their firearm, they will reach for their duty belt. This way they can commit to memory that TASER means vest, and gun means belt. Any non-lethal item that they may need will be on their vest, which not only reduces their back pain by removing items from the duty belt, but it also helps with their training so they know to reach for one place when they need these items. All non-lethal items will always be on their load bearing vest, so when they are in a stressful situation they know exactly where to reach for the items they need.
Police officers work 8 hour, 10 hour, and even 12 hour shifts each day, protecting and serving their communities while dealing with highly stressful and fast moving situations. Utilizing this type of training with BlueStone custom LBVs clearly separates the placement of lethal and non-lethal items on each officer, and can help them react appropriately in tense situations.
Moving non-lethal equipment onto a LBV might not seem like a big change, but when an officer is in a situation with split second decisions, it will make a big difference.
To learn more or to order a BlueStone Safety custom load bearing vest carrier, please visit: https://bluestonesafety.com/custom-vest-carrier.
About BlueStone Safety Products
BlueStone Safety Products is a state-of-the-art defense company that manufactures custom load bearing vests / outer carriers for LE. Mayo Health Clinic and the University of Wisconsin-Eau Claire completed a research study with the Eau Claire Police Department, and concluded that wearing BlueStone load bearing vests effectively reduced officers' lower back, sciatic, and hip pain; Eau Claire then chose BlueStone to be their direct manufacturer. You can find this case study on our website.
BlueStone takes great pride working with some of the finest Sheriffs and Chiefs across our nation. No matter your department size, we'll assist you. We specialize in keeping officers in good health, good posture, and pain free while on the job.
Our vests give officers a uniform look, made to the Chief's or Sheriff's exact specifications. If you can dream it we can make it; all of our vests are proudly made in the USA (not overseas), and made custom to each officer's measurements. BlueStone vests are a long-term investment to protect your officers from poor physical health, keeping our officers healthy and able to support their communities.
We also offer our brand of multiple armor threat levels.

Request more info from BlueStone Safety Products
Thank You!