Axon launches Axon Body 4 body camera for an improved user experience
The Axon Body 4 has features focused on wearer location, improved communication and sharper picture image
---
By Police1 Staff 
SCOTTSDALE, Ariz. — Axon has announced the release of the Axon Body 4 – its next-generation body-worn camera. 
The Axon Body 4 upgrades include: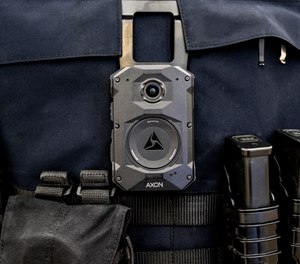 Bi-directional communications between the wearer and multiple viewers with access, allowing communication in real time.  

A Watch Me button that allows the wearer to signal a call for support while displaying their location on Axon Respond. Axon Body 4 shows the wearer's location on the Axon Respond map in real time and can start recording automatically when an officer approaches a significant location.  

Critical alerts, such as unholstering a firearm or the arming of a TASER device. This can also be communicated to the camera and displayed in Axon Respond. 

The option to connect to an additional point-of-view camera that can be attached to the officer's shoulder, head, hat brim, and sunglasses to provide an additional perspective from the officer's point of view.  
Camera upgrades, such as improved visibility and image detail. The Axon Body 4 has a 160-degree field of view, an 18% increase from prior models. It also has a stronger 5 MP sensor for sharper details and higher resolution.  

Improved battery life, providing over 13 hours of runtime. Rapid recharging adds 20% battery power in under 30 minutes and can be done in a patrol car while on duty. 
Axon Body 4 is currently being trialed by several agencies in the U.S. and will be available for customers to begin purchasing by the second half of 2023, with shipments beginning shortly after.  
NEXT: Why I think the TASER 10 may be the most effective less lethal device in history

Request product info from top Police Body Cameras companies
Thank You!