Jasper Police Department Outfits Officers with PatrolEyes Body Cameras
---
Jasper, Florida Jasper Police Department located in Hamilton County, Florida has chosen to outfit officers with PatrolEyes SC–DV6 body cameras. The department set in the North Florida lowlands has seven full time officers and serves a population of roughly three thousand people.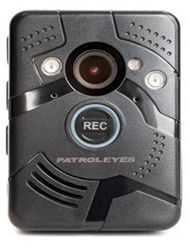 Jasper Officer Chris McGauley has mentioned a few reasons in the choice for the new PatrolEyes SC–DV6 body cameras. Among those reasons is the superb video quality of the device in any environment, day or night. "It has great night vision" said McGauley. "It helps us to keep both of our hands free, and we don't have to hold a flashlight for the camera to pick the light for us to see the video." Officer McGauley also mentioned that the device is very easy to use. "We have tried 3–4 other cameras and this is the best by far. We are well pleased by what we have seen so far." said McGauley.

The PatrolEyes SC–DV6 truly shines above the rest in the functions and features department. Image quality is top notch with this model. It boasts a 23 megapixel camera, 145° field of view and the ability to shoot in crystal clear 1080P and 720P at 60 frames per second. The auto night vision option allows you to record in any environment day or night! "We've built the Elite model to meet and exceed the needs of many police departments. Many body cameras do not record well in low light conditions and that's where our SC–DV6 model excels! There are many advanced features and options available that allow each department to customize the cameras to best meet their needs", states PatrolEyes CEO Mike Gramza.

About PatrolEyes

PatrolEyes body cameras by StuntCams are the most innovative cameras designed specifically for police and law enforcement. StuntCams has been an industry leader in the specialty cameras market for years and now has developed the most innovative line of body cameras to date. By paying close attention to each detail the PatrolEyes models by StuntCams are designed to be the most user friendly body cameras with the most advanced features, highest quality components, at the most competitive prices.
Learn more

Request more info from PatrolEyes
Thank You!