Ohio police department to re-outfit officers with GVS body-worn cameras
---
TOLEDO, Ohio — The Toledo Police Department is once again outfitting patrol officers with body-worn cameras.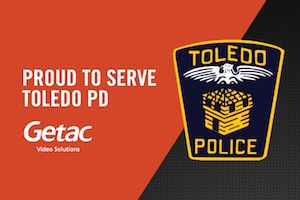 After unforeseen challenges with technological compatibility that led to the return of all 304 L3 body-worn cameras in April 2018, the Toledo Police Department switched to the Getac Video Solutions Body-Worn Cameras. The roughly $228,000 in capital improvement and JAG grant funds, awarded by the Criminal Justice Coordinating Council and used for the original body-worn camera system, have been reallocated.
The funds were used to purchase 311 Getac Video Body-Worn Cameras, seven more than with the previous vendor. Those cameras are now being issued to all patrol officers. 
The field testing and selection phase for the new body-worn camera system began in May 2018 with officers preferring the Getac Video Solutions Body-Worn Cameras.
About Getac Video Solutions
Getac Video Solutions is a leading provider of rugged body-worn cameras and in-car systems with configurable solutions powered by Intel and Microsoft. Getac Video Body-worn cameras are built with remote uploading, flexible mounting, and automatic triggers, so you don't have to worry about turning it off and on or stopping to upload video data. The integrated in-car solution is comprised of body cameras, the powerful VR-X20 DVR, in-car cameras and a 5-inch HD display, giving you total connectivity and awareness. All video evidence collected can be sent straight to the Cloud or a self-hosted server.
Everything comes together with Getac Enterprise Data Management, one of the most powerful video management tools in the industry, helping you to easily and securely store, view, share and manage any type of digital evidence.
All solutions are fully integrated and connected in real-time, so you capture the evidence you need when you need it most.
For more information on our innovative solutions, visit GetacVideo.com.

Request more info from Getac Video Solutions
Thank You!