PRESS RELEASE
Wyo. police department rolls out integrated solution from Getac Video Solutions
---
CASPER, Wyo. — Getac Video Solutions is proud to announce that the Casper, Wyoming Police Department is now using our integrated solution to connect and protect their force.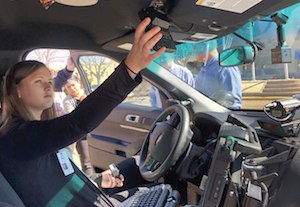 Scott Hoffman, Casper Police Technology Manager, spoke earlier this year at a press conference and said, "We purchased a hundred body-worn cameras and we have 85 in-car units that will be installed."
This purchase came after Casper PD conducted several months of field tests with three different systems early last year. When Casper police officers provided feedback on the various gear, the department found Getac Video was the best fit.
To streamline and automate policework, the Casper Police Department purchased an integrated solution which included ZeroDark™ HD in-car cameras, Getac Body-Worn Camera (BWC), interview room cameras and cloud storage.  The in-car cameras are currently being installed in the Casper fleet while the body-worn cameras were deployed last month.
Improved In-Car Cameras
The in-car cameras, located on the front and the back of the vehicles, are an upgrade for the agency which was using cameras bought in 2008, according to Hoffman. Powered by the latest in industry technology, Getac Video's ZeroDark™ HD in-car cameras' video quality and speed are a significant improvement on Casper PD's previous in-car cameras.
The new cameras can be activated manually and also automatically turn on with specific triggers including when officers drive more than 70 mph, open the back door of their cruiser or turn on their light bar. Additionally, the cameras have live geolocation and tagging which allow the command center to monitor activity in real-time and determine what types of activity are common in certain areas.
Introducing Getac Video's BWCs to Casper
The BWC is a new technology for the Casper Police Department and they are planning to use Getac Video's cutting-edge solution to keep their officers and the public safe and accountable.
Casper Police Chief Keith McPheeters told Oil City News the BWC would frequently be used. "We will be filming every contact with our citizens that is related to police service," he said. Contact isn't just limited to police officers, McPheeters told the Casper Star-Tribune that all officers would wear the BWC, including evidence technicians and Metro Animal Shelter and Community Service officers.
Data Storage
Casper PD will store all of the video footage and data collected locally and also upload and store it in the cloud. Getac Video's partnership with Microsoft allows for Casper PD to have unlimited cloud storage.
About Getac Video Solutions
Getac Video Solutions is a leading provider of rugged body-worn cameras and in-car systems with configurable solutions powered by Intel and Microsoft. Getac Video Body-worn cameras are built with remote uploading, flexible mounting, and automatic triggers, so you don't have to worry about turning it off and on or stopping to upload video data. The integrated in-car solution is comprised of body cameras, the powerful VR-X20 DVR, in-car cameras and a 5-inch HD display, giving you total connectivity and awareness. All video evidence collected can be sent straight to the Cloud or a self-hosted server.
Everything comes together with Getac Enterprise Data Management, one of the most powerful video management tools in the industry, helping you to easily and securely store, view, share and manage any type of digital evidence.
All solutions are fully integrated and connected in real-time, so you capture the evidence you need when you need it most.
For more information on our innovative solutions, visit GetacVideo.com.

Request more info from Getac Video Solutions
Thank You!